This is POST 11 of my "fitness journey" blogging. For backstory, see Post 1,
Post 2, Post 3, Post 4, Post 5, Post 6, Post 7,Post 8, Post 9 and Post 10.]
Getting fit is hard to do. Especially if you're me, because that means three times a week your alarm clock blares at 4:30 am.
One of the most common excuses for putting off our fitness and exercising is lack of time.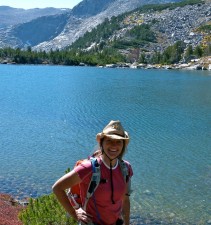 I know for me, this has commonly been an excuse. During the last few years I was a business owner, wife and mother of three young sons. Even though we sold our business last September, I remain on board as a consultant. And, as our sons grow, life is getting busier.
I want and need to be fit, but I also want to maximize my time with my family. Don't get me wrong. I have an extremely supportive (and very fit) husband, and my boys like to see their mommy healthy and happy. Still, I do feel guilty if my exercising takes away ant of my time with them.
To overcome this self-imposed conflict, I've been waking up at 4:30 am to work out at the gym on Mondays, Wednesdays and Fridays.
This isn't easy. I love sleeping. I operate best on a full 7 or 8 hours of it. But, at least for me, that 45 minutes of hard exercise yields more benefits than an extra 45 minutes of sleeping. And, when I get home, at about 5:30 am, my boys are still sleeping. I don't feel like I've shorted them, or me, of any family time. So the dark thirty workouts work for me.
There are 3-4 other women I have gotten to know, all also mothers and full-time professionals, who also often work out at dark thirty. Recently we had a little fun and shot some photos of what we really do when we're at the gym in the wee hours of the morning.
They are below.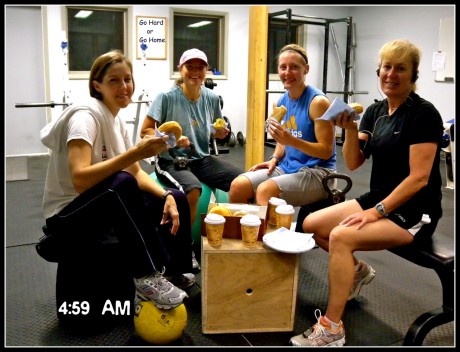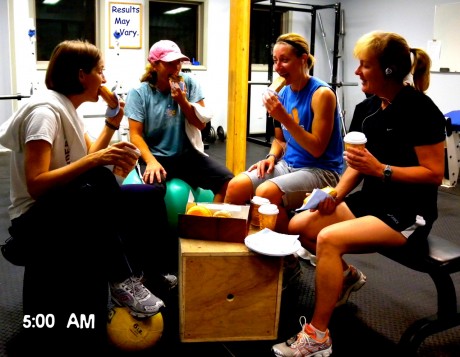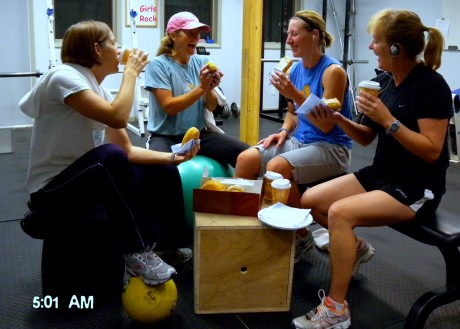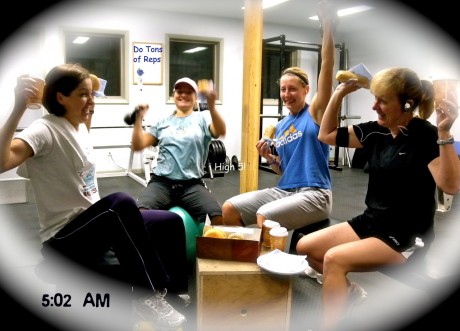 Elemental Gym has a fantastic gym, some terrific programs and classes that will help you achieve better fitness. And, I might add, some great personal trainers: Steve Bechtel, Ellen Bechtel, Jagoe Reid, and Sophie Mosemann.