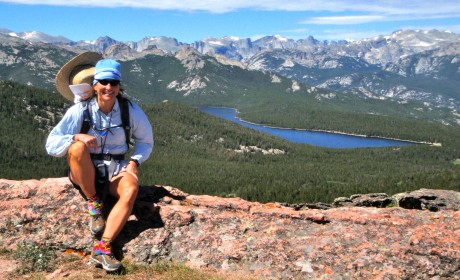 I just returned from my annual hike to Shoshone Lake above my town of Lander, WY. There's no other way to describe this 22-mile hike. It's a grunt.
The trail is not necessarily spectacular, and in fact much of it follows a two-track and is a popular ATV trail. Solitude isn't the reason you hike to Shoshone Lake. But I'm not complaining!
As long as you're willing to go uphill for a long time on a steep, rugged, loose and rocky trail, and then downhill for a long time on a steep, rugged, loose and rocky trail, then this hike is worth it. The rewards make it so.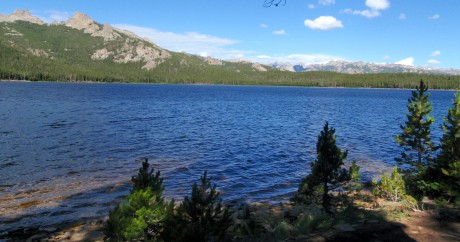 A good friend, Kathy (Doyle) Swanson, of Casper, WY, joined me on the hike. We started beyond Sinks Canyon State Park, about eight miles southwest of my hometown of Lander, WY, at the base of Fairfield Hill.
We started at 5 am, with headlamps on, with a 1,000-foot elevation gain over one mile. Along the way to Shoshone Lake, we hiked through McMahone Park, by Pete's Lake, Twin Lakes, and through the vast and awesome Shoshone Basin.
Shortly after hiking through Shoshone Basin and alongside a creek for a short bit, after about 11.5 miles of hiking, we arrived at our first reward: Shoshone Lake. The mountain lake is huge and scenic. For about a mile or so, we hiked along the lake's shore.
The second, and biggest reward, is what one sees from the top of Cyclone Pass. And the effort it takes to get to this point makes it even more grand. (I've done this hike every summer for the last five summers. Every time, regardless of my fitness level, Cyclone Pass is a lung-buster.)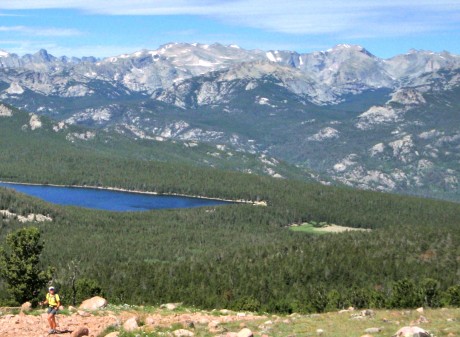 Basically, at about mile 14 of this epic day hike, we faced a rocky incline that climbs close to 1,000 feet in a little over a half of a mile. It's a combination of where in the hike this uphill grunt presents itself, and its steep nature that makes it grueling. Every time.
No matter that this was my fifth time to see the view from Cyclone Pass. Every time I see it, I am overcome with emotion — i.e. goosebumps and happy tears. One thing I like to do when I have Shoshone Lake first-timer hikers with me is make them promise to not look back while ascending Cyclone Pass. The temptation is huge, if for no other reason you want to stop and catch your breath and take a look around.
I made Kathy promise me she would not look down or back. As far as I know, she kept her word. :>
When we got to the top I told her she could finally look behind her. Watching her take in the view for the first time was almost as great as taking in the view for the first time myself. She was stunned, as you'll see in the first embedded video near the bottom of this blog post.
After about 20 minutes of taking in the views, taking some video and photos, and snarfing a gourmet PB&H "rollover," we were on our way to Point B, the point at which my husband, his dad, and my three sons would await for us in a car that would drive us back into Lander.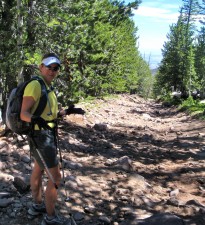 The way back, although it's almost all downhill, is not for the faint-of-heart hiker. "The Chute" is the most notable reason for this. It's a 1.5-mile long section on what resembles a dried up creek bed — make that a downhill, dried up creek bed with extra layers of rock for good measure.
Here you walk on rocks and more rocks downhill. It seems like it goes for at least three miles, but it's one and half miles. Trust me, that's plenty.
We made really good time on this hike, but The Chute (Yourself?) always slows you down. You can only walk so fast on piles of rocks without turning an ankle or falling down.
We ended near the Switchbacks on Shoshone Lake Road, above Baldwin Creek road. Jerry and his dad awaited us at the top of the last stretch of trail with cold beers in hand (with our names on them.)
It was another awe-inspiring day in my back yard.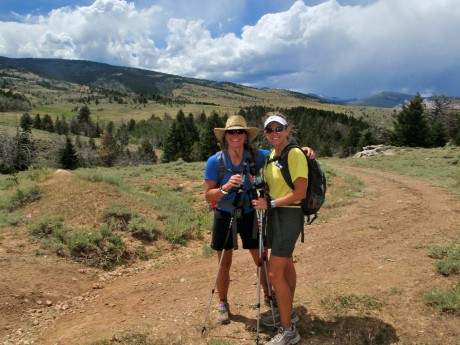 Some video clips of the hike: