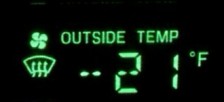 This is POST 16 of my "fitness journey" blogging. For backstory, see Post 1,
Post 2, Post 3, Post 4, Post 5, Post 6, Post 7,Post 8, Post 9, Post 10, Post 11, Post 12Post 13, Post 14 and Post 15..]
I suppose many of you think I'm dedicated to fitness because I go to the gym at 4:15 am three days a week, well before most people are even stirring in bed. There's a good chance that I'm home and showered before most people's alarm clocks go off. All I can say to all of you still in bed is (a resentful) Good for You.
On mornings like today's, however, I am envious and probably more apt to claim I could be a little off kilter. Nuts, even.
You see, it was –21 degrees in Lander, WY, as I got up and drove to Elemental Gym.
If before you weren't certain I was nuts, this should solidify it. : >