This is Post 5 of my "fitness journey" blogging. For backstory, see Post 1,
Post 2, Post 3 and Post 4.]
Commitment. The dreaded word. It means to pledge, to make an obligation.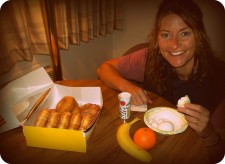 Two of my favorite commitment-related quotes are:
"Unless commitment is made, there are only promises and hopes; but no plans." (Peter Drucker)
"There's a difference between interest and commitment. When you're interested in doing something, you do it only when circumstance permit. When you're committed to something, you accept no excuses, only results."
When I think of the word, commitment, I think of it as something that requires a strong will and hard work, but that is worthwhile.
If there are donuts in front of me and yet I find a way to eat a boiled egg and piece of fruit, that's commitment. If I'm on vacation and I set the alarm for 5 am and get a workout in before the day of lounging starts, that's commitment. If I eat a salad when everyone else in the car is feasting on French fries and chicken nuggets, that's commitment. When Jerry and I chose to marry almost 17 years ago, and later chose to have children, those were commitments. When we started a business 15 years ago, that was a commitment.
We've all heard the saying, "Nothing worthwhile is easy." Well, ain't that the truth!
The results of all the above personal examples of commitments are positive and worthwhile, but none of them were, or are, easy.
Today I'm writing this as we drive to Iowa and Nebraska for some family visits. There will be lots of good food and excitement and probably a little stress from time to time that comes with all big family gatherings.
I can tell you, with 100% certainty, that it will be hard for me to stay committed to my training and nutrition regimen.
But I will.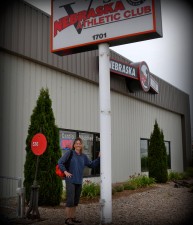 This is because I've made a commitment to lose some weight and fat, increase my fitness, and find more energy. After falling into a rut for four years, every day since I committed to getting out of the rut is a major achievement for me. I want to keep it going. I don't want to take any steps backward. I'm afraid of failing and letting myself down.
"The only failure comes from within," said Steve Bechtel , my personal trainer at Elemental Gym, during a recent training session. Boy, I agree with that. The biggest fear I had when I embarked on hiring Steve as a personal trainer three months ago to start climbing out of the deep rut, was that I would not stick to it, and fail.
Steve sums up commitment as much by stating what it isn't as by what it is. "If you commit to something in your comfort zone, it's not a commitment," he says. If it's easy, he doesn't consider it a commitment.
After talking through it, we agreed that what makes something a commitment is when it involves making a major decision that represents a significant change. As a result, the stakes are higher. So the decision to make a commitment is one of the hardest aspects of making a commitment.
When I think of the term, commitment, I also think of time cost. And probably that's another reason I don't get warm and fuzzy when I think of the term, commitment.
As a long-time business owner, and now a consultant for the business we recently sold, wife, and mother of three young sons, my life is very busy. For me, time is worth more than money, and often I think I don't have enough of it.
Lack of time is the best excuse for not committing to better health and fitness. Certainly it's the most convenient. We use it to justify to ourselves, and to others, why we won't commit to exercise. And we can be pretty convincing and compelling. I convinced myself over and over for four years that I had more important things to tend to than a serious fitness program.
Problem is, we're not talking about some nonsensical thing. We're not talking about making time to watch more television, or play more video games, or go on more vacations, or go out to the bar more, or to out to eat more, or to shop more. We're talking about our health – our quality of life and our vitality.
And furthermore, the lack of time excuse is losing ground as a legitimate excuse for us not committing to regular exercise – and to improving our health.
If you've been following my fitness journey blog posts or reading the increasing amount of fitness-related articles in the national press, or talking to the trainers at Elemental Gym, you're learning that if you exercise at high intensity, far less time is required to realize benefits. Steve says as little as 4 minutes a day of high intensity exercise a day can bring great fitness results. Certainly I've seen results of such a program first hand in the 14 pounds of weight loss and 7% of fat loss I've experienced in 3 months time. I'm not investing significant blocks of time but instead training really hard for a small amount of time several times a week.
Think for a minute about all the things we do in a day. Can we shave 10 minutes off your TV-viewing time? Maybe get up 10 minutes earlier? Or stay up 10 minutes more? Reduce computer or internet or email time by 10 minutes? Take a 30-minute lunch break instead of an hour lunch? Forego our entire lunch hour for exercise and eat a sandwich at the desk? When we look at it these ways, it's not hard to find 10 minutes to spare for the betterment of our mind and health.
Personally, I get up extra early to get my exercise in. Jerry and I have three young sons. With each child we've had, we have grown accustomed to getting up a little earlier, if only to eke out a little extra time for ourselves. In the very early morning, while the kids are still sleeping, we find our time to exercise. Whatever works. But if you're willing to get a butt-kicking and do high intensity, we're just talking 10-24 minutes per session. Suddenly, the "I don't have time" excuse no longer flies.
For more on time, here's a video clip of Steve, on time, and the fact great fitness doesn't require a lot of it:

I don't want to focus on only my own experiences, successes or failures here. So from time to time, I'm going to provide a profile of someone else I know who's committed to better fitness and share their experiences. This time I'm putting a spotlight on LORI BARNEY, a friend of mine in Lander, WY, who has made a great commitment to her training and fitness.
Elemental Gym has a fantastic gym, some terrific programs and classes that will help you achieve better fitness, and some great personal trainers, including Steve Bechtel, Ellen Bechtel, Jagoe Reid, and Sophie Moseman.