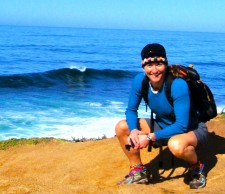 On my most recent trip to the San Francisco, CA, region, I spent a day exploring the Point Reyes National Seashore region, located about an hour-and-a-half northwest of San Francisco.
The highlights were hiking to Tomales Point, which marks the end of land on the Pt. Reyes Peninsula,  seeing elephant seals at Drakes Beach, and exploring the Point Reyes Lighthouse, which was (perhaps aptly?) shrouded in fog.
Point Reyes National Seashore is a 71,000-acre area located on the Point Reyes Peninsula, in Marin County. My hike to Tomales Point would take me to the north end of land for the Point Reyes peninsula, which is geologically separated from the rest of Marin County and almost all of the continental United States by a "rift zone" of the San Adreas Fault, about half of which is sunk below sea level and forms Tomales Bay. (Wikipedia)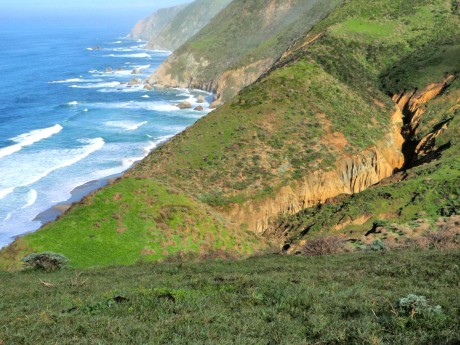 The hike to Tomales Point and back is about 9.5 miles. It's rolling, and I was rewarded the entire way. Earlier in the morning, en route to the trailhead, I was getting rained on as I traveled over the Golden Gate Bridge. I packed my rain gear and planned on getting wet on the hike and yet hoping to at least catch a glimpse of the scenery.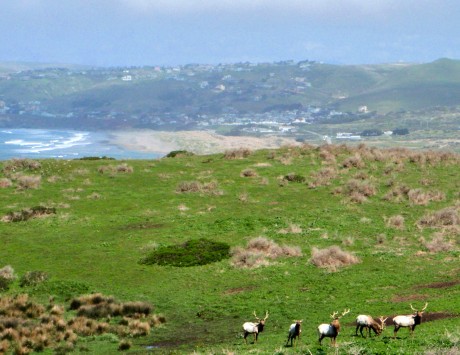 But I got lucky. When I arrived at the trailhead, it was all blue sky. I left the trailhead mid-morning and had the trail to Tomales Point all to myself. Well, not really. I shared the trail with hundreds of Tule elk.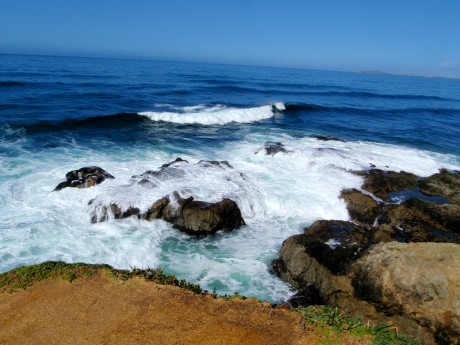 I am from Wyoming and spend a lot of time in Yellowstone so seeing elk was not that shocking to me. However, hiking among so many of them certainly was a rare treat. The biggest deal about hiking among the elk on this hike was that I was also hiking amidst crashing surf of the Pacific Ocean. Now that was extraordinary! Many times I had both elk and ocean in my view, and that was really, really cool.
ELEPHANT SEALS AT DRAKES BEACH Just when I thought my day couldn't get any better, I stopped at Drakes Beach. I was simply going to get a vantage of the ocean from a beach perspective since it was now a bit foggy above the shoreline. When I got out of my car I noticed orange ribbons and warning signs blocking people from accessing the beach, which was right in front of me.
There was a photographer nearby (Jim Coda) and I asked him what the signs were all about. "Probably to protect the elephant seals," he said. Oh my gosh, I hadn't even noticed them! There they were — three or four big creatures right in front of me lying on the beach. I had just figured they were big rocks or clumps of beach matter. I watched as the one right in front of me sighed and "waved" at me one time with his tail. It was an amazing experience to be so close to them.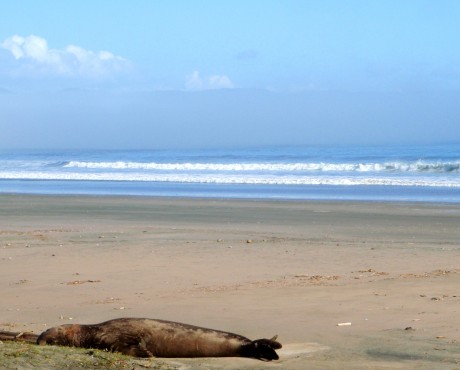 According to the National Park Service website, elephant seals range from Mexico to Alaska and Hawaii in search of food. They spend 80 percent of their life in the open sea. Not only do they spend most of their life in the ocean, 90 percent of that time is spent underwater: eating, sleeping, digesting, and traveling.
They are built to survive continuous dives to depths that would squeeze the life out of any other mammal. The average dive reaches 1,000 to 2,000 feet, lasts close to half an hour and is followed by only 3-5 minutes at the surface to breathe. Seeing and watching the elephant seals were a major highlight for me and I couldn't wait to share the news with my husband and three sons.
POINT REYES LIGHTHOUSE After completing the hike, I went to see what all the fuss was about with the Point Reyes Lighthouse. Point Reyes is the windiest place on the Pacific Coast and the second foggiest place on the North American continent. As you probably know, lighthouses provide mariners increased safety by warning them of rocky shores and reefs. They also help mariners navigate by indicating their location as ships travel along the coast. Mariners recognize lighthouses by their unique flash pattern.
On days when it is too foggy to see the lighthouse, a fog signal is essential. Fog signals sound an identifying pattern to signal the location to the passing ships.
According to the National Park Service website, the Point Reyes light first shone in 1870. Its lens and mechanism were constructed in France in 1867. The clockwork mechanism, glass prisms and housing for the lighthouse were shipped on a steamer around the tip of South America to San Francisco.
Meanwhile, 300 feet below the top of the cliff, an area had been blasted with dynamite to clear a level spot for the lighthouse. To be effective, the lighthouse had to be situated below the characteristic high fog. This is all fascinating for this "land-locked" Wyoming girl. 🙂 I hiked the short distance to the lighthouse, although don't have any great photos because it was so foggy. I'm including a very short clip near bottom of this post to prove it was foggy and that I was there, though.
OTHER MARIN HEADLANDS HIKING BLOG POSTS:
From Surf To Top of Mt. Tamalpais
Surf, Rolling Hills, Lung Busting and Zen
VIDEOS:
TOMALES POINT HIKE – BREAKING SURF CAPTURED FROM STEEP, EXTREME CLIFF

TOMALES POINT – "RICH" AT TOMALES POINT

THE ENTIRE TOMALES HIKE COMPRESSED INTO (12 MINUTES)

ELEPHANT SEALS AT DRAKES BEACH

POINT REYES LIGHTHOUSE (UNDER FOG)