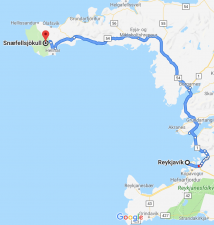 "I dream with my eyes open."
― Jules Verne, Journey to the Center of the Earth
For our grand finale in Iceland, we signed up for a guided climb of Snæfellsjökull, a 700,000-year-old glacier-capped stratovolcano on the Snaefellness Peninsula in western Iceland.
The volcano, which stands 4745 feet tall and is the "crown" of Snaefellness peninsula, would be a mountaineering experience and we were looking forward to walking on a glacier to get to the top of a volcano.
The mountain was first climbed in 1754 and is still a very active volcano. The volcano is also famous. Snæfellsjökull became world-famous after Jules Verne described it in his book of "A Journey to the Center of the Earth." Or, maybe you've seen the movie.
We hired GoWest to guide us. Our guide, Orsi, was phenomenal. We drove to a point from which we hiked through lava fields for about a mile or so before reaching the bottom of the glacier. We put our crampons and harnesses on and roped up.
We had Snaesfelljokull all to ourselves. It was hard work climbing 3,000′ on snow and the wind gusts were frequent. Often, during our ascent, we couldn't see anything but white. Other times, though, we could see the ocean below, and lava fields and the peak we were hiking toward.
When we got to the top it was blustery cold and the summit was in and out of the clouds, but we bundled up, ate a quick snack and got some photos. We didn't stay on the summit for long because of the weather, but had a great descent down and the clouds cleared for us to have outstanding scenery during our descent.
We were whipped but fulfilled when we reach the van. We all agreed it was the most epic grand finale we could have experienced at the end of such an unforgettable trip.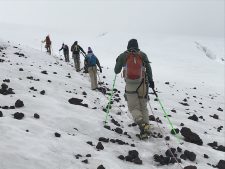 Ascending Snaefellsjokull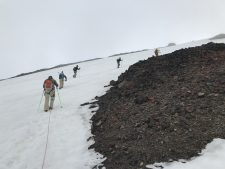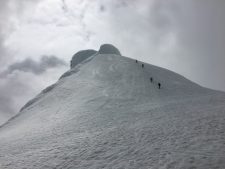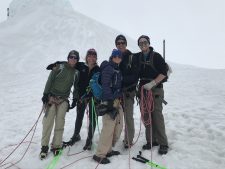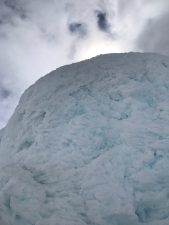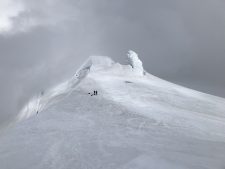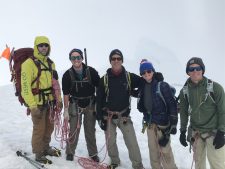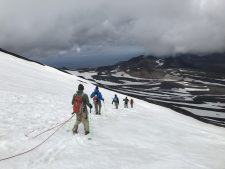 Descending Snaefellsjokull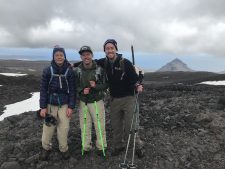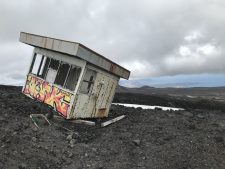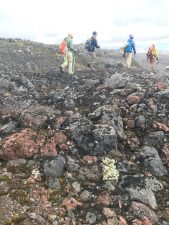 For the rest of the Iceland story, and for additional Iceland-related blog posts:

Iceland or Bust
Iceland, Part 1 of 7: Blue Lagoon, Kerid Crater, Seljalandsfoss, Sólheimajökull Glacier, Skogafoss and  Reynisfjara Beach
Iceland, Part 2 of 7: Iceland, Part 2 of 7: Katla Ice Cave, Vatnajökull, Skaftafell, Svartifoss and Svínafelsjökull Glacier
Iceland, Part 3 of 7: Climbing Fjallsjokul, Jökulsárlón Glacier Lagoon, Diamond Beach, Lítanesfoss, Hengifoss and Seydisfjordur
Iceland, Part 4 of 7: Studlagil Canyon, Dettifoss, Viti Crater, Hverfjall Crater, Lake Myvatn and Godafoss
Iceland, Part 5 of 7: Hiking in Landmannalaugar: Climbing Brennesteinsalda and Blahnjukur Volcanos