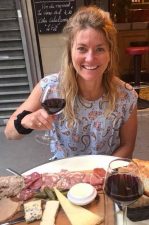 (This is blog #2 in a series of posts I'll be writing from our Epic Family adventure and our upcoming Camino de Santiago pilgrimage. If you missed it, here is the first blog.)
It takes a while to get from the Frontier of Wyoming to Paris, France. After our 5.5-hour drive from Lander, WY to Denver, we flew for 3.5 hours to NYC/JFK, before catching a 7-hour flight to Paris. But as is always the case, the long haul was worth it.
Our reserved transportation was waiting for us at the baggage claim, and our adventure started. It was 7am, and our driver was zooming us in and out of traffic lanes. Just our ride in the traffic of Paris was exhilarating, and served to wake us all up out of slumberous states.
One of the exciting parts of these big international trips is when we arrive at a new destination and we get to see what our accommodations are like. Jerry picked this apartment/flat out months ago, and he did a great job! We are enjoying a spacious apartment on Rue Cadet that is right in the heart of Paris. Our windows are open and we hear the life of Paris almost constantly.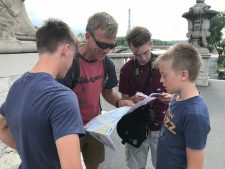 After taking long naps, we set out on foot to see what all the fuss of Paris is about. We walked about a mile and a half to reach the Seine River, and get our first spy of the Eiffel Tower. Of course, along the way, we also indulged in baguettes, chocolate croissants, and the much-anticipated Nutella-filled crepes.
We ended our first day in Paris early due to sleep deprivation and jet lag, but not before enjoying an epically delicious French dinner at a sidewalk cafe near our flat.
The next day was a big one. We had a day full of tours planned, including the Louvre, Notre Dame, and a cruise on the Seine.
The Louvre Museum is the world's largest art museum, and the world's most visited art museum, with 8.1 million visitors a year. Its building—the Louvre Palace—was originally a fortress, built in the late 12th to 13th Century by Philip II. A central landmark of the city, the Louvre is located on the Right Bank of the Seine. Approximately 38,000 (out of a total collection of 780,000!) objects from prehistory to the 21st century are exhibited over an area of 782,910 square feet. (About a half of a mile worth of indoor space!)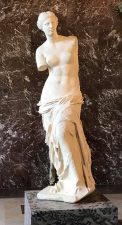 We saw so many famous works of art, including Aphrodite of Milos, better known as the Venus de Milo. Venus de Milo is an ancient Greek statue and one of the most famous works of ancient Greek sculpture. Initially it was attributed to the sculptor Praxiteles, however from an inscription that was on its plinth, the statue is thought to be the work of Alexandros of Antioch. Created sometime between 130 and 100 BC, the statue is believed to depict Aphrodite, the Greek goddess of love and beauty (Venus to the Romans).
It is a marble sculpture, slightly larger than life size, stands 6′ 8″ high. Part of an arm and the original plinth were lost following its discovery. She used to have real gold jewelry. It is currently on permanent display at the Louvre Museum in Paris. The statue is named after the Greek island of Milos, where it was discovered.
Another highlight of our tour of The Louvre was seeing the Winged Victory of Samothrace, also called the Nike of Samothrace, is a marble Hellenistic sculpture of Nike (the Greek goddess of victory), that was created about the 2nd century BC. Since 1884, it has been prominently displayed at the Louvre and is one of the most celebrated sculptures in the world. H.W. Janson described it as "the greatest masterpiece of Hellenistic sculpture", and it is one of a small number of major Hellenistic statues surviving in the original form.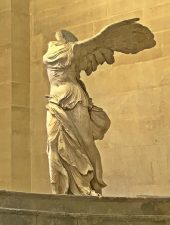 We also saw the Mona Lisa! Considered the world's most famous painting, Mona Lisa is an oil painting on a poplar wood panel by the Italian painter, draftsman, sculptor, architect, and engineer Leonardo da Vinci. It was painted sometime between 1503 and 1519, when Leonardo was living in Florence, and it now hangs in the Louvre, in Paris, where it remains an object of pilgrimage in the 21st century.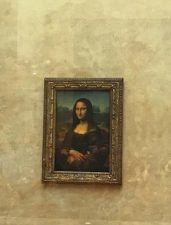 This portrait was started in Florence around 1503. It is thought to be of Lisa Gherardini, wife of a Florentine cloth merchant named Francesco del Giocondo – hence the alternative title, La Gioconda. However, Leonardo seems to have taken the completed portrait to France rather than giving it to the person who commissioned it. After his death, the painting entered François I's collection. Mona Lisa was stolen and the media reported on it so much that the painting is even more famous. (Someone is in the room for 24 hours a day.
After our morning tour of The Louvre, we enjoyed a quick snack and break on one of the 37 bridges that span the Seine in Paris.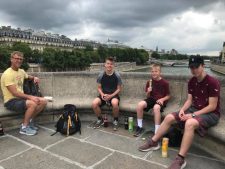 Next up was a tour of Notre-Dame de Paris. We were looking particularly forward to this tour, not only because we have wanted to see Notre Dame, but also because our tour guide would be Georgia Darell, who led us on an exceptional tour of the Catacombs during our trip to Rome two years ago. We've stayed in touch with Georgia, and she's become a friend of ours, so it was extra special to see her again. And, no surprise, she provided us with an unforgettable tour of Notre Dame.
Notre-Dame de Paris (meaning "Our Lady of Paris"), also known as Notre-Dame Cathedral or simply Notre-Dame, is a medieval Catholic cathedral in Paris that is widely considered to be one of the finest examples of French Gothic architecture. Notre Dame is among the largest and best-known church buildings in the Catholic Church in France, and in the world.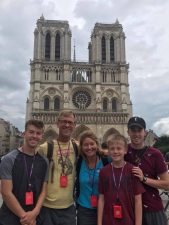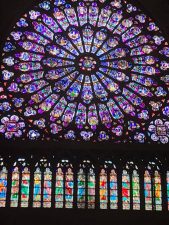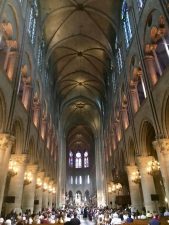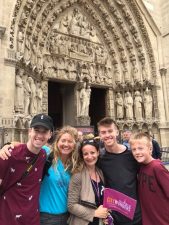 After the Notre Dame tour, we went out to coffee with Georgia. It was so funny–our youngest son, Fin, 11, kept falling asleep while sitting upright in his chair at the cafe. We are all a little sleep-deprived and jet-lagged still, not to mention my FitBit reports 10 miles today.
While walking to meet up for our cruise on the Seine, we admired the spectacular Hôtel de Ville de Paris, and various street performers. We walked all the way around the hotel to admire it. The Hôtel has been the seat of the Paris City Council since 1357. The current building, with a neo-renaissance style, was built by architects Théodore Ballu and Edouard Deperthes on the site of the former Hôtel de Ville which burnt down during the Paris Commune in 1871.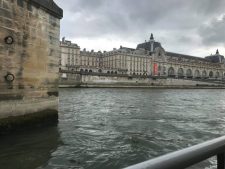 We ended our day of sightseeing in Paris with a cruise on the Seine River. The Seine is a 483-mile-long river and an important commercial waterway within the Paris Basin in the north of France. It flows through Paris and into the English Channel at Le Havre (and Honfleur on the left bank). It is navigable by ocean-going vessels as far as Rouen, 75 miles from the sea.
Within Paris, there are 37 bridges that cross the Seine, including the Pont Alexandre III and Pont Neuf, the latter of which dates back to 1607. From the Seine, we enjoyed great views of all of the City's major attractions.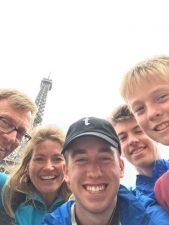 The Eiffel Tower is the world famous wrought iron lattice tower on the Champ de Mars in Paris. It is named after the engineer Gustave Eiffel, whose company designed and built the tower from 1887-89. Constructed from 1887–89 as the entrance to the 1889 World's Fair, the Eiffel Tower was initially criticized by some of France's leading artists and intellectuals for its design, but it has become a global cultural icon of France and one of the most recognizable structures in the world. (The Eiffel Tower is the most-visited paid monument in the world, with almost 7 million visitors/year.)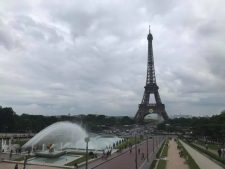 After the river cruise, our middle son, Hayden, took the leadership for figuring out which Metro routes we would need to take to return to our apartment. He did a great job, and we made it home after 7 stops on one Metro, and 2 final stops on the next.  Upon returning to our flat, the boys lovingly suggested that we get them dinner in, and we head out. They didn't have to twist our arm, so Jerry and I headed to a nearby sidewalk cafe, where all of our culinary needs were met. 🙂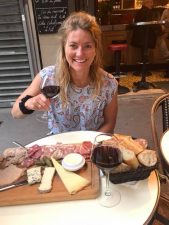 We are writing daily in our family journal, and by all indications from today, and each of our family member's journal entries, it is fair to say we love Paris. What a magical day in the City of Lights.
By the way, for two nights in a row, I have been awakened at around 3:45am. What woke me up? Silence. It's only brief here, and at least from what we can gather from our flat, Paris sleeps for about 30 minutes and it's from 3:45am-4:15am. 🙂  It is fun to be in such a lively, energized city.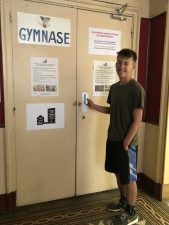 Our final day was supposed to include a tour of the Catacombs of Paris, which we were so looking forward to. However, the workers are on Strike so that tour was a No Go. (We feel lucky that we toured the Catacombs in Rome a couple of years ago, so we at least have an idea for the kind of experience we missed.) And even though we're bummed, after talking to locals, we understand the workers' concerns.
We made the best of it by sleeping in late, walking all over and exploring areas of Paris we hadn't yet explored, found a "street piano" for Wolf to play, toured a mall, found epic gelato at Amorino, and swung another strike when, in the interest of our son, Hayden, we found the location of the world's oldest basketball court. And – you guessed it–it was not to be. It is currently closed for renovations.
We consoled ourselves by treating ourselves to a dozen Ladurée macarons – the best in Paris!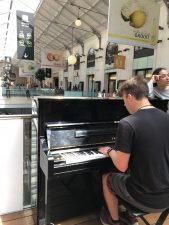 We are chillin' in our flat and will treat ourselves to a final French dinner before closing in at a reasonable hour. Tomorrow we depart, super early, for Madrid, as we start to orient toward the main event of this Epic trip – our Camino de Santiago pilgrimage, which will begin in a few more days.
Thanks for reading! Merci!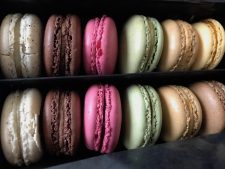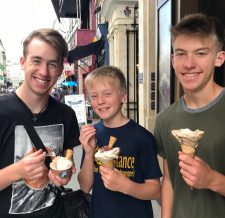 Here are some video captures from scenes in Paris: