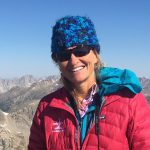 Some years ago, my husband, Jerry, and I had the idea to embark on an "epic anniversary day hike." Every year, around our wedding anniversary, on a single day we'll hike one mile for every year of marriage. Over the years, we have enjoyed some amazing, inspiring, fun and unforgettable anniversary day hikes.
On Aug. 22, Jerry and I will celebrate our 24th wedding anniversary. So this year's annual anniversary epic hike would need to be, you guessed it, 24 miles.
Go ahead and say it. I know what you're thinking. What about our 50th anniversary? Or our 40th – or 35th or 30th for that matter? I had to get a calculator out to learn that when we celebrate our 50th, I'll be 74, and Jerry will be almost 80! (One friend joked that our plan to hike a mile for every year could end up being an "incentive for divorce." LOL. I don't think so, but I do think we'll get more creative.)
But I digress. This is a blog post about our 24th Anniversary Epic day hike, and it's a good one…
For some time now, we have wanted to hike the famous Teton Crest Trail. The Teton Crest Trail's full route is about 40 miles long, and extends from Phillips Pass, on the border of Bridger Teton and Caribou-Targhee National Forests, to String Lake in Grand Teton National Park. 
Backpacker Magazine calls the Teton Crest Trail one of the "Best Hikes Ever," with "mesmerizing and constant views of jagged peaks." I consulted with my good friend, and fellow adventurer, Michael Lanza, about an "approximately 24-mile portion" of the Teton Crest Trail that we were hoping to hike. He gave me some tips, and as usual, Michael's advice turned out to be stellar. (Thank you Michael!)
We would start at Death Canyon Trailhead, and hike almost 4 miles to the Death Canyon Patrol Cabin, at which point we'd turn onto the Static Divide Trail. We determined in advance that we'd definitely take a little extra time to scramble to the top of Static Peak, and after that, we'd continue through Alaska Basin and to Sunset Lake, before ascending Hurricane Pass. From Hurricane Pass, we'd descend through the South Fork of Cascade Canyon, before returning by way of Jenny Lake boat shuttle to Jenny Lake for a pickup vehicle, and hopefully some cold beers.
Normally we do our hike around our Aug. 22 anniversary, but this year two of our three sons start school on that day. And besides, some dear friends of ours, Alan and Marie Wexler, and their daughter, Margot, would be visiting their home in Jackson Hole earlier in the month, so Jerry and I decided on Aug. 13 for the big hike. We invited Alan, and were looking forward to celebrating our anniversary on the trail with him. (I had shared an Epic adventure with Alan in 2014, and I was looking forward to sharing the trail with him again.) Soon after, Alan invited one of his friends, Andrew, who was visiting from California, and Andrew invited one of his friends, Allen, who was visiting from Big Sky, MT. These guys were all great company, and Jerry and I made a couple of new friends, and will recall fondly the wonderful time we shared with these guys when we recall this Anniversary epic hike.
I think the best way to share about this hike is to show you photos and some video. But before I do that, my final words are these: We have been on many jaw-dropping, inspiring and epic trails over the years. After all, our backyard is the Wind River Range of Wyoming, and we've enjoyed countless unforgettable and spectacular hikes in our favorite mountains. Yet I am here to tell you, and hopefully show you, that we concur with Backpacker Magazine. The Teton Crest Trail is indeed one of "Best Hikes Ever."
We had challenge: 6,300′ of elevation gain. We had unbelievable scenery. After hiking up switchbacks surrounded by tall granite mountains with alpenglow on their tops, and fireweed in the foreground, we crossed over a ridge and were rewarded with a stunning view of Phelps Lake, the Snake River, and the Gros Ventre Mountains below. Then we started across Static Divide, including a quick scramble to Static Peak's top, from which we could spy a turquoise lake with ice still on it, and a unique perspective of the Grand Teton in a distance. By the way, I think Static Divide gets its name from the effect of lightning. You wouldn't want to hike across Static Divide in lightning, that is for sure. Thankfully, during our hike, we had the opposite – a clear and blue sky.
Then we hiked through some really cool, and very old rock, fields of a bazillion wildflowers of every color, and around the impressive Buck Mountain. We hiked through long stretches at high altitudes, in country that was huge and expansive. After enjoying some miles in the spectacular Alaska Basin, we reached Sunset Lake, which is striking and emerald green in color. We then hiked up Hurricane Pass, where we saw a glacier, and hiked around the back of the Grand Teton – enjoyed some champagne and an anniversary toast – before hiking our final miles on a trail that parallels beautiful cascades of water through the aptly-named Cascade Canyon.
Here are photos and some video: