We just returned from a week of blissful rest and relaxation on the Big Island of Hawaii. What a magnificent place!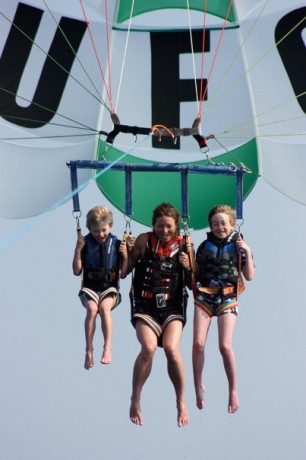 While there, one of the exciting adventures we embarked upon was a parasail over the ocean. It was amazing.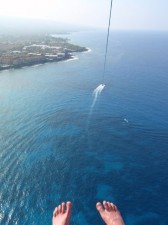 I talked our two oldest sons, Wolf and Hayden, ages 9 and 8, to join me on a tandem parasail. They weren't that excited about it, and actually a little nervous about it. But, being good sons, they did it for me. I wanted to share this experience with at least some of our family.
My husband, Jerry, is recovering from a spine fusion so he stayed at the beach and in the pools with our 2-year-old son, Fin, while we went "flying."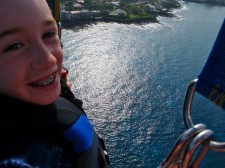 All told, we were up in the air — way up there, as in the equivalent of being 50 stories above sea level — for 14 minutes. It was thrilling and spectacular. The boys were yelling "woo hoo!" over and over again. They really got a kick out of it, as did I.
The view of the ocean was spectacular… turquoise in some areas and deep blue in others. As a bonus, we floated near a gigantic cruise ship that was docked in Kona.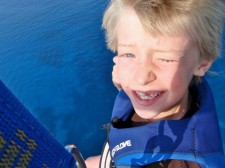 The "deluxe" adventure was provided by UFO Parasailing, who provides parasail experiences off the Big Island, as well as Maui.
About mid-way through our flight, the crew lowered us to right above the ocean for a short bit before jerking us up, up, up again. It was exhilarating. Then, right before reeling us back into the boat, they briefly dipped us in the ocean.

Here's some helmet camera footage of part of the flight: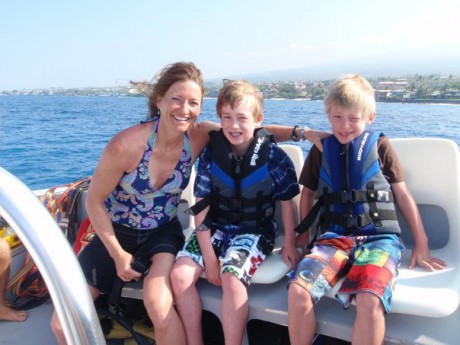 I would highly recommend this as an adventure for you or your family to consider. This was my second parasail. The other one I did was a few years back of Lake Tahoe. It's an incredible experience that although it's short-lived, provides yet another great vantage from which to view your surroundings — and a little bit of an adrenaline rush.
The boys were asking if we could do another parasail. I said, not until the next trip. But definitely count us in for another in the future.
(Another adventure we enjoyed during our trip to the Big Island was swimming with dolphins in the the wild.)