Jerry and I have three sons, Wolf, 9, Hayden, 7 and Fin, 2. My favorite thing to do with the family is camping. I just love it. It's a way to get close to nature, get dirty, find things to do that are not artificial or expensive, and typically the best campgrounds/campsites don't have cell signals.
People who know me and know how I love gadgets and all of technology's wonders don't believe it when I say it, but I sometimes like it when my cell has no bars. It forces me into isolation, which is what I want, but often have a hard time surrendering to.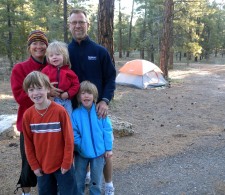 We recently camped for most of our Spring Break vacation. Except for yurt stays the first two nights, which were fortunate given the blizzard conditions, we camped 4 nights.
The boys love looking for treasures, finding and collecting rocks and other interesting items, climbing trees, helping build a fire, making s'mores, reading aloud to each other, playing ball, looking at the stars and everything else that comes as part of the camping package.
My parents rented an RV from CruiseAmerica in Salt Lake City and toured some of Utah's national parks on their own before meeting up with us on the South Rim of the Grand Canyon for a few days.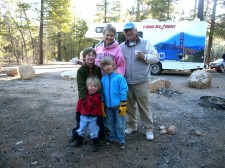 Boy, did they arrive in comfort. What a great idea and business CruiseAmerica has. My boys fell in love with the RV and truth be told they much preferred that to tent camping. Some of the fond memories from the camping time with their Mommom and Poppop were the walks they took and helping my parents find their way with walkie-talkies after getting lost and disoriented several times. : >
Great times to be sure. We can't wait for the next camping trip.
Here's a short video that captures the essence of our camping experiences: