"Twenty years from now you will be more disappointed by the things you didn't do than by the ones you did. So throw off the bowlines, sail away from the safe harbor. Catch the trade winds in your sail. Explore. Dream. Discover." –Mark Twain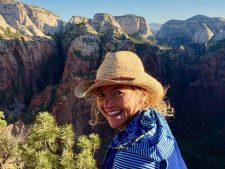 Our Epic family trip is fast approaching, and we are so excited! We'll spend a few days in Paris, then we'll fly to Spain, where we'll start out in Madrid for a couple of days, before embarking on the main part of our Adventure – our 160-mile pilgrimage on the Camino de Santiago. We'll mark the end of our pilgrimage in Santiago de Compostela, before flying to Barcelona to celebrate the last four days of our Epic trip.
Four years ago, my husband, Jerry, and I resolved that we – our family – were going to start taking almost-month-long vacations. We have three sons, Wolf, 18, Hayden, 16, and Fin, 11. We have always enjoyed many family trips and adventures, but, until three years ago, we had never gone on a trip that lasted more than 7-10 days. What a gift it would be if we could take an entire month to experience new places, sights, cultures and activities as a family.
As a parent, I doubt myself often. I don't boast a lot about my parenting abilities, but this idea is one I'm so proud of, and as parents, it's definitely one of the best ideas Jerry and I have had.
Some people may wonder how we can take a month off to make a trip every year. That's a good question. It's not easy, and it hasn't always been possible. Our ability to do so is hard-earned and intentional. Having the time available is a gift. For us, time is worth more than money. Jerry's a teacher, so he and the boys all get out of school at the end of May each year. Jerry didn't always have his summers free, though. When we had our first company, Yellowstone Journal and YellowstonePark.com, for 15 years (from 1994-2008), Jerry's summers were spent working tirelessly delivering magazines and helping me with the company. He worked so hard for so many years, logging endless hours and miles on the road. Fortunately, since selling that company in 2008, Jerry's summers have been his. As for me, I work for myself, and since starting Epic Life Inc. in 2011, I have kept my summers mostly free.
These trips aren't cheap even if we do our best to be frugal. We don't make a very big income, but we are careful about our spending throughout the year, and over the years, have worked to eliminate most of our debt. We don't live lavishly. (Our house needs a lot of work and updating, but we have not made it a top priority in the interest of this travel we're wanting to do at this stage of our family's life. We seldom go out to dinner, in an effort to save money for travel, and so on.)
That said, it would be easy to not embark on these trips. They are big undertakings, especially when they're a month long and involve international travel, and a family of five that includes three growing boys with insatiable appetites for food. It would be easy to chicken out and say No. But we want to say Yes, so we book them far in advance, when we're initially inspired, so we can't draw back.
In 2016, we made our first international trip and explored several countries in Europe. It was an unforgettable experience that included time in London, Munich, Switzerland, Italy (Moneglia and Rome, etc.), and Portugal. We visited numerous historic and cultural sites, hiked many miles in Switzerland and Italy, drank beer and wine, indulged in the many delicious and unique foods of the countries, and met so many kind and interesting people. Plus, we successfully made about 100 train connections, which is no small feat for these country bumpkins from Wyoming! We kept a family journal, and each of us wrote something at the end of each of our 30 days in Europe. Each of us walked, on average, 13 miles per day, which is indicative of how much we saw and experienced. Every time we arrived to a new destination, by train, we'd hike 1-3 miles to discover what our accommodations would be like. It was all new and exciting and unforgettable, and to do it all as a family, was/has been such a blessing.
Then, last year, in 2017, we started in Vancouver, B.C., where we rented a van and enjoyed a month-long Epic Road Trip that took us all the way south to Los Angeles. From Vancouver to the San Juan Islands to Seattle, to Portland, to the coasts of Washington, Oregon and California, we immersed ourselves in the cultures of the cities, the wonderful environs of several national parks and beaches, and had another unforgettable adventure.
We still revisit, often, various aspects of both of our Epic trips, which, of course, is what Jerry and I were hoping for when we had this idea of the longer family trips. We wanted for us to create lasting memories and experiences that our family would be able to share forever.
Before continuing, I 'd like to be completely transparent about something. I would be lying if I said these big trips, and the destinations we choose, have been family decisions. For the most part, they haven't included a very democratic process. Rather, for the most part, Jerry and I have determined where we'd like to take the family, and then we share our dreams of the particular travel plans, and, at least so far, the boys have been excited and quickly jumped on board.
By the way, whenever it has come to something Jerry and I feel strongly will benefit our family, we have used this tactic. For example, when we first started our family, Jerry and I resolved that we wanted to be an outdoors family. I wrote an article, called "How to get your kids to hike" that explains how we went about raising an outdoors-oriented family. But for purposes of the point I'm trying to make here, I'll cut to the chase. Whenever we wanted to take the kids hiking, we did not ask them, "Do you want to go hiking today?" Instead, we'd enthusiastically announce to them, "Today, we're going hiking!" This simple strategy worked, and today our boys are great hikers, and we've spent the last 18 years adventuring with them.
When it comes to goals and values you'd like to instill in your family, I highly recommend this strategy. We are the "captains" of our families/kids for only so long, and Jerry and I are trusting that the decisions around travel and outdoors that we have made for our boys, and our family, will offer them lasting benefits.
But back to our upcoming trip. No question, I think Jerry and I are more excited about the Camino de Santiago portion of our trip than our boys are. While we'll explore cities like Paris, Madrid and Barcelona, our itinerary's main item includes 160 miles of trekking. Although by now the boys are getting more excited for the experience, I think it's fair to say choosing a 160-mile-long walk wouldn't have been their first pick. 🙂  (It's so funny, when we were first considering this trip last Fall, while at dinner, we'd talk with the boys about the Camino de Santiago and the pilgrimage aspect. And then one day around that time, as I was walking with Fin to school, we were talking about the prospects of such a trip, he said, "You mean we have to walk?" LOL. Um yes, and then thinking to myself, Weren't you listening at any of our recent conversations?)
Our boys are big hikers and quite experienced when it comes to the outdoors. Most of our trips and adventures include hiking and/or camping. In Switzerland, we had two different day hikes that were about 20 miles each, and the boys, as long as we fed them often and generously, were champs! Over the years, we've taken them on backpacking trips, but those have been no longer than 3-4 days each.
This trip's pilgrimage on the Camino de Santiago will include 11 days of nothing but trekking. Day after day of nothing but walking. Some of our days are big, including our first and third, which will be 20-plus miles each. The other days range from 12-16 miles. So we've been training for the occasion, and these training hikes have added to the experience as we've had some memorable times in our "backyard," the foothills of Wyoming's Wind River Range.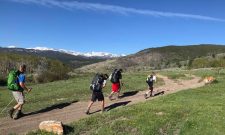 Why make trekking the Camino de Santiago a part of our big trip this year?
For starters, we can credit Martin Sheen and his son, Emilio Estevez. About six years ago, Jerry and I rented the movie, The Way. The movie, written and directed by Estevez, and starring Martin Sheen, is about a father who travels overseas to recover the body of his estranged son who died while trekking the El Camino de Santiago, and decides to take the pilgrimage himself. The movie is fantastic, and after seeing it, Jerry and I were both inspired to someday make the pilgrimage ourselves. Then, in recent years, and months, I've read books, and blog posts, and social media posts by people on pilgrimage. Friends, and friends of friends have shared photos and videos and personal accounts that have all re-inspired me about the Camino de Santiago. Various friends I know from my small town of Lander, WY, and the surrounding area, made the pilgrimage as recently as last year and have inspired us. Laureen Lund has a fantastic blog that includes her daily accounts of the experience. The best documentary, in my humble opinion, is Walking the Camino. We also read the book, and watched the documentary called I'll Push You, which I highly recommend, whether you have interest in the Camino or not.  Other great books I've read are The Pilgrimage, by Paulo Coelho, Pilgrim Strong: Rewriting my story on the way of St. James, Sunrises to Santiago: Searching for purpose on the Camino de Santiago, as well as others. All of these have stoked the fire in me that was started when I originally learned about the Camino.
During a Fall hike last year, Jerry and I were brainstorming ideas for our family's trip this summer, and I mentioned the Camino. We talked about how in Spring 2019, Wolf will will be graduating high school and leaving the nest, and the next year, it will be Hayden's turn. Fortunately we will have five years after that before our youngest son leaves the nest. The realization that we have only a short time remaining that our whole family will be living under the same roof together ultimately inspired us to want to do this trip, and to do it right now. (I read somewhere that 80% of the time we will spend with our children happens between their birth and age 18. As parents I think we know this, and yet being reminded of it is helpful.)
A pilgrim is a person who journeys to a sacred place. The Camino de Santiago is certainly a sacred place. Often referred to as The Way of Saint James, the Camino de Santiago was one of the most important Christian pilgrimages during the Middle Ages. Legend has it that the remains of Saint James the Great, one of the apostles of Jesus Christ, were carried by boat from Jerusalem to northern Spain, where he was buried in what is now the city of Santiago de Compostela. Once to Santiago, pilgrims often celebrate mass at the spectacular Cathedral of Santiago de Compostela, which marks the traditional end of the pilgrimage route.
Certainly, to walk where millions of others have walked before us in the interest of searching for meaning and to deepen their faith or spirituality will be such a unique experience, and an honor. I'm excited to be a pilgrim, and for my family to be pilgrims, even if it's for only 11 days.
A pilgrimage is a journey. (In my work – whether in my coaching, or my epic adventure guiding – I'm often trying to lead my clients on an inner pilgrimage. A journey to discover more about themselves, and to, in the process be open to exploring and taking chances.) I know firsthand, and also from my observations of those I work with, how powerful such a personal journey can be. I'm excited beyond words to be embarking on a pilgrimage as a family. The pilgrimage has the opportunity to transform our family in some way, while affecting each of us individually in unique ways.
For days, our only objective will be to put one foot in front of the other.  While it will certainly at times be physically challenging, the other aspects of the pilgrimage are what really intrigue Jerry and I.
Many follow a route of the Camino de Santiago as a form of spiritual path or retreat for their spiritual growth, or any number of very personal meanings.
The Way can take one of dozens of pilgrimage routes to Santiago de Compostela. Traditionally, as with most pilgrimages, the Way of Saint James began at one's home and ended at the pilgrimage site. However, a few of the routes are considered main ones.
We will be following the Camino Francés – or, The French Way.
During the Middle Ages, the route was highly travelled. (In the 14th Century, a million pilgrims from throughout Europe wold make the pilgrimage every year.) However, the Black Death, the Protestant Reformation, and political unrest in 16th century Europe led to its decline. By the 1980s, only a few hundred pilgrims per year registered in the pilgrim's office in Santiago. In October 1987, the route was declared the first European Cultural Route by the Council of Europe; it was also named one of UNESCO's World Heritage Sites. Since the 1980s, the route has attracted a growing number of modern-day international pilgrims.
Today, about 300,000 pilgrims from throughout the world make the pilgrimage each year.
From here on out, I'll take the lazy route and include some particulars about our journey in the form of bullet points. Feel free to leave a comment if you have questions about anything that might be of interest that I have overlooked.
• We'll start our trip with 3 days in Paris, taking in the sights and foods there. At least by our family's standards, this portion of the trip will find us "living large. " 🙂
• Then we'll fly to Madrid,  a city we will explore for two days.
• On June 5, we'll send most of our luggage off, to be transported to the end of our journey, and we'll head to Astorga. Our pilgrimage will begin on June 6.
• The entire Way is 790km/490 miles. Many people take 30-50 days to walk its entire length. Others will do a portion of it, and return in future years to complete the entire path. As for us, and this trip, we'll be dedicating 11-12 days to our pilgrimage, and we'll walk about 160 miles.
• It's a good thing we're from high country in Wyoming, and that we're hikers because we will have some big days, including days 1 and 3, when we'll walk about 22 miles. Other days will be 12-16 miles each.
• Staying in the albergues/hostels are a big part of the Camino de Santiago experience. I understand that. But we have instead opted to stay in Inns along the way. We have reserved private accommodations for our nights along the Camino. This may seem less adventurous, but after reading accounts of "100 snorers," our decision was made. I already have 4 personal snorers with me, but also, in addition, due to some of our big mileage days, having some personal space each night feels important to us.
• All of the great books I've read include pilgrims' accounts of carrying wine in their backpack, or enjoying wine along the trek. Okay, okay. Twist my arm and sign me up for some of that. 🙂
• Siestas. I think the whole family is excited about Siestas. Especially if we are in the middle of a big uphill, and suddenly it's "Siesta time." We will want to honor the traditions…
• We're looking so forward to all of the people we meet along the way, and to hearing their stories, and to sharing such a meaningful experiences with "strangers" who are from all over the world. We are each/all likely to make some new friendships.
• I used to know Spanish pretty well. I took Spanish in high school and for two years in college. Unfortunately, I don't remember much of it, so I have been using the Duolingo app to learn some words and phrases. Wolf and Hayden are pretty good at Spanish, and they are looking forward to trying their best to use the language. We will rely on them to help us communicate our needs along the path, and in Madrid and Barcelona. That will be fun.
• Each of our family members has a "Credencial de Peregrino." This document dates back to the middle ages, when it was given to pilgrims as a safeguard. This Credencial is only for pilgrims on foot, bicycle or horseback, who wish to make the pilgrimage with a Christian sentiment, even if it is only with an "attitude of search." The Credencial has the purpose of identifying the pilgrim, provides access to hostels offered by the Christian hospitality of the Way, and to serve as certification in applying for the "Compostela" at the Cathedral of Santiago, which certifies you have made the pilgrimage. Each of us will collect two stamps on our Credencial at every village, etc., we pass through.
• Scallop shells. The scallop shell, which is often found on the shores in Galicia, has long been the symbol of the Camino de Santiago. When we booked our trip several months ago, we bought scallop shells and then had the idea that we should draw names, and then design the shell for the family member whose name we drew. This was really meaningful. Last night we presented each other with the designed shells, which will be attached to our backpacks during our pilgrimage. (See photo of our designed shells at the bottom of this post.)
• Rocks from home. The highest point of the pilgrimage is a place called Cruz de Ferro, marked by a towering iron cross. Since the 11th Century, pilgrims have been bringing a stone from their homeland to the Cruz de Ferro. Once there, pilgrims approach the small hill with silence and respect, before placing their rock at the cross. This symbolizes a release of burdens. On one of our training hikes, the main objective for everyone was to find a special rock for purposes of leaving it at the Cruz de Ferro. (See photo of our rocks and brief explanation of why we picked the ones we did.) Most importantly, I have been thinking a lot about the "burden" – what I want to leave behind – on this journey. As a mother, I find I'm grasping. I know it's understandable that I am trying to hold on tightly to my boys and my/our time with them. Wolf's leaving in a year, and Hayden's leaving in two years, and my worries about that are causing this grasping. But I know I need to work to not grasp, to trust and to sort of let go. I'm pretty sure whatever I try to leave on the Camino will be related to that. (If this struggle is something you're contending with, you might check out these two gems I've been meditating on so frequently I have them almost memorized: On Children, by Kahlil Gibran, and She Let Go, by Rev. Safire Rose.)
• We will end in Santiago de Compostela, so we're starting about 160 miles out from there, near Astorga. We are looking forward to celebrating our pilgrimage's end in Santiago, where we'll stand in line to get our stamped Credencials validated and receive certificates for our pilgrimage.
• At Santiago, a highlight for us will be to attend mass at the extraordinary Santiago De Compostela Cathedral. I can imagine it will be one of the most meaningful and unforgettable masses we've ever attended. One of the most interesting elements about the cathedral is the famous Botafumeiro, a large censer which disperses incense amid the congregation. Weighing 117 pounds and measuring 5 feet, it is one of the largest in the world, and is suspended 65 feet high above the crowd via a system of ropes and pulleys. On special occasions, and after some masses, the Botafuemeiro is released by team of eight tiraboleiros who swing it across the cathedral at great speeds of up to 42 miles/hr).
• It is thought that this tradition of spreading so much incense over the mass was started in order to cover up the smell of the thousands of pilgrims arriving at the cathedral after their exertions. We'll soon be among those sweaty pilgrims, and I am pretty certain the incense will be a most welcome scent!
Finally, the Camino de Santiago pilgrimage will surely present us with challenges and blessings. What the journey will mean for each of individually and as a family is a mystery. And I love that it is.
Marcel Proust wrote, "The real voyage of discovery consists not in seeing new landscapes, but in having new eyes."
We will see new landscapes on this adventure, but we are also sure to return with new eyes.
Thank you so much for reading this blog post, and following along, as I blog from The Way. I really appreciate your stopping by and taking an interest. Truly.
(Note: The guidebook we are trusting for most of our pilgrimage along The French Way is A Pilgrim's Guide to the Camino de Santiago: Camino Francés.)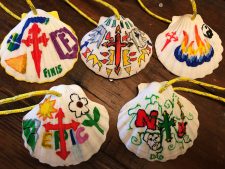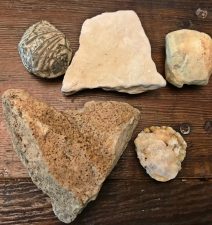 Video of a training hike: 

HERE ARE DAILY BLOGs FROM OUR UNFORGETTABLE CAMINO PILGRIMAGE:
Day 1 on the Camino de Santiago.
Day 2 on the Camino de Santiago.
Day 3 on the Camino de Santiago.
Day 4 of the Camino de Santiago.
Day 5 on the Camino de Santiago.
Day 6 on the Camino de Santiago.
Day 7 on the Camino de Santiago.
Day 8 on the Camino de Santiago.
Day 9 on the Camino de Santiago