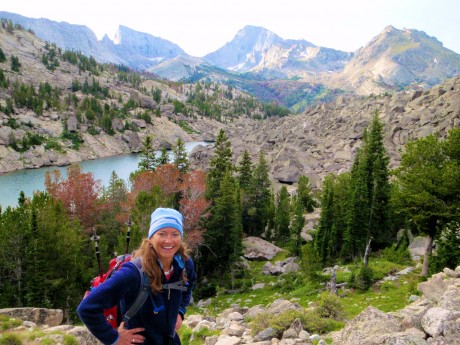 I just completed a life list hike that's in my back yard, Wyoming's southern Wind River Range. As those of you who know me, or read this blog, know, I live for these "epic" hikes in the Wind River Range. This year I had a list of five major ones I wanted to do. Due to a late summer start (the result of local flooding and lots of snow accumulation in the high country), and more than the usual number of thunderstorms during the first half of August, I've been able to complete only two of the ones on the list.
Thankfully, the most coveted one on this year's list is the one this post is about, which means I completed it.
On Monday, I hiked almost 32 miles in a day — from sunrise to sunset — from Big Sandy Opening, over Jackass Pass to the Cirque of the Towers, to Lizard Head Meadows, along the North Fork Trail to Pinto Park, to the Middle Fork of the Popo Agie, to Sheep Bridge and finally, to our destination, Bruce's Bridge, just beyond Sinks Canyon State Park outside of my hometown of Lander, WY.
Along for the hike were two of my good friends, Holly Copeland and Kathy Swanson.
Although I had previously hiked all of the trails we would travel, except for a 3-mile stretch, I had never linked them all into one trip. In fact, unless you're looking to challenge yourself, as we were, you could spend a week or two or three, easily, hiking and exploring the route we traveled and the sights we enjoyed. And of course, that is more reasonable. But I relish these endurance challenges that afford so many spectacular views in a single day, not to mention the great camaraderie and conversation that is shared along the way. And, the fact I'm only away from my husband and three young sons for one day, also makes these epic day hikes appealing to me.
But okay, let's talk about the hike…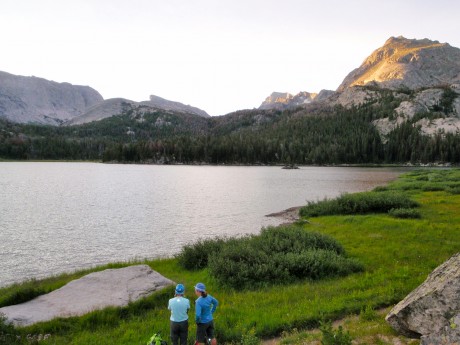 We departed Lander at 2:45 am and drove for 2 hours, 15 minutes to the Big Sandy Opening trailhead, accessed from Wyoming Highway 28/South Pass. With headlamps on, we started down the trail a little after 5 a.m. The first 5.5 miles is pretty flat and forested and parallels Big Sandy Creek for much of the way. This stretch was uneventful as the sun began to rise.
The sun was up before we reached our first major milestone, Big Sandy Lake, a beautiful lake that is surrounded by Schiestler Peak, Temple Peak, East Temple Peak, Haystack Mountain and Big Sandy Mountain. The trail follows the northwest shore of the lake. I always like to stop at the big flat rock near the end of the lake just before we start ascending Jackass Pass. It's a great spot to adjust clothing, snap some photos and snarf a quick snack…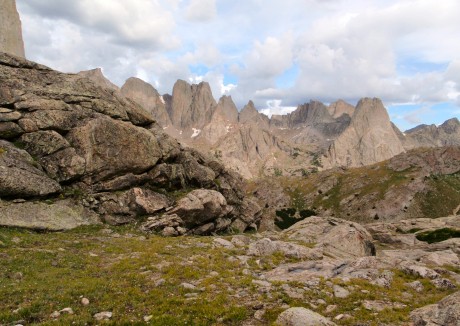 …And, get ready for the trail's personality to change. Dramatically. From Big Sandy Lake, we hiked up over Jackass Pass, so named because a donkey cannot pass over it. It's not only a significant uphill effort, it traverses a rocky side of North Lake and eventually leads hikers up, up and up some more.
The views are breath-taking, literally and figuratively. We're talking jaw-dropping scenes. As soon as you're beyond North Lake, you get a glimpse of Pingora, peeking through from the still-distant Cirque of Towers. To your immediate left, though, and towering majestically, is Warbonnet Peak.
We enjoyed views in all directions. Behind us was North Lake and the distinctive East Temple Peak and Temple Peak. And, unfolding in front of us were the towering granite walls and peaks that form the Cirque of the Towers. We were hiking in alpine tundra — a mess of vehicle- and small building-sized granite, a mess of rocks scattered throughout the alpine tundra, sprinkled with tiny wildflowers of all colors, and of course the aforementioned granite giants.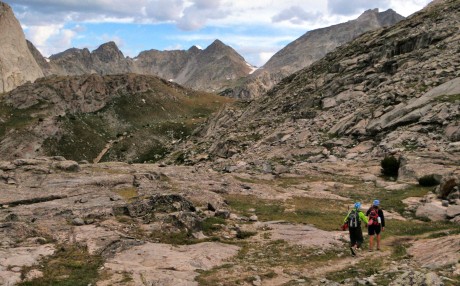 Before reaching the end of the pass, you descend a short but steep hill before ascending to 10,780 feet and the end of Jackass Pass. While making this last ascent, be sure to stop and take a look behind you at the aptly named Arrowhead Lake. This is one of my favorite views along Jackass Pass.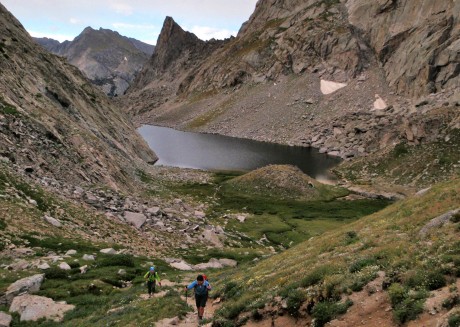 At the end of Jackass Pass, we enjoyed our first actual break and sat down briefly to consume another snack and take in the views of Lonesome Lake and the Cirque of the Towers.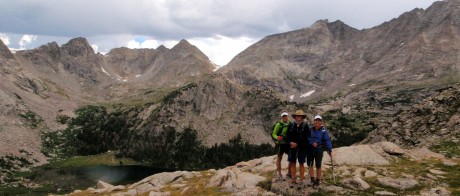 Next, we descended a small, steep hill and hiked around the south shore of Lonesome Lake.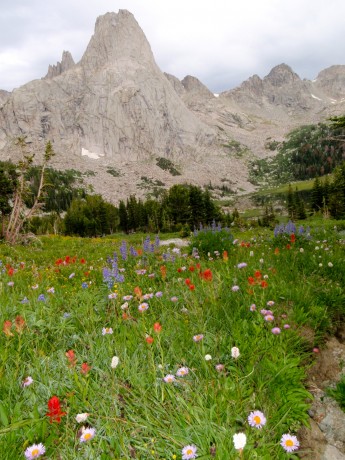 From there we picked up the North Fork trail, named for the North Fork of the Popo Agie River and hiked to Lizard Head Meadows.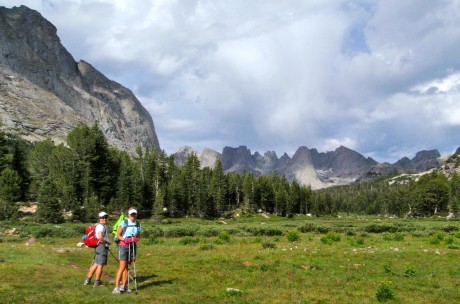 At Lizard Head Meadows, we stopped to watch a moose graze on the lush grasses and then continued on a trail that follows alongside the North Fork of the Popo Agie. This was an amazing stretch of trail: forested but with huge granite mountains to our right. It sort of made us feel as if we were hiking in Yosemite National Park, under and near the likes of El Capitan, but with one significant difference – our trail was lonely. It was almost as if we had it to ourselves. (We saw only approximately 10 other hikers, all backpackers, the entire 32 miles.)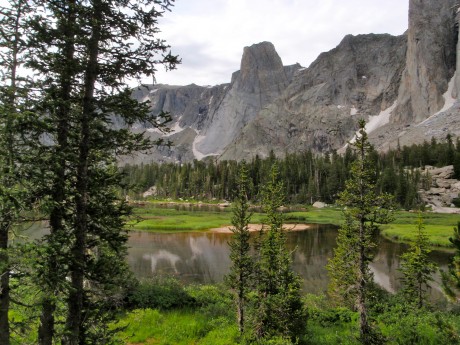 A great sight was the river, complete with fish jumping out of its calm waters, and a huge peak towering over it that is aptly named The Monolith.
From here, the trail gets a little mean-spirited. It goes uphill. For a long time. Finally, we arrived at Pinto Park, a great expanse of lush grass, surrounded by forests and more granite peaks in the distance.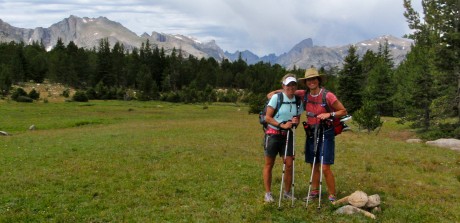 After more hiking, we arrived at the Middle Fork trail, which parallels the Middle Fork of the Popo Agie River, the river that flows through my hometown of Lander, WY. There, we refilled our hydration packs with treated water and continued on.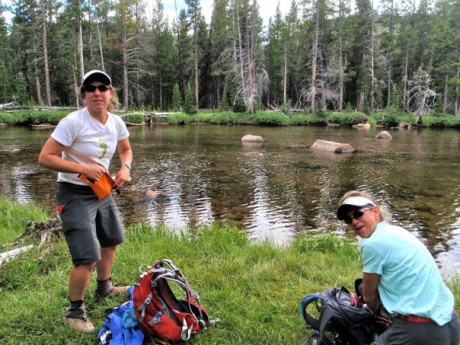 Next was Sheep Bridge. And, as we were about four miles out from the trek's end, my husband, Jerry, and Holly's husband, Scott, and their dog, Milo, met us on the trail. Their presence provided a little surge of energy for us. (I'm guessing the cooler of ice-cold PBR they hauled in for us helped, too.) We finished the hike with a fair amount of daylight remaining.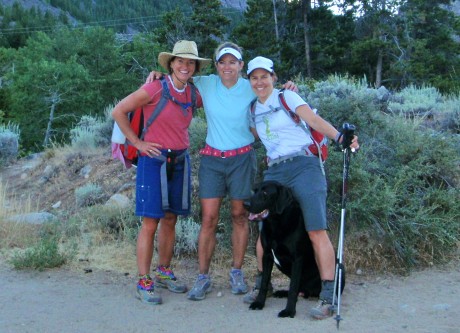 To be sure, completing this hike was a phenomenal personal achievement for me and my friends. But spectacular sights we saw and the great conversation we shared along the trail are what will remain with me for days and months to come.
It was another memorable day in my back yard, and I will not forget it.
Here's a video of the various segments of our adventure patched together. Enjoy!