We recently returned from a week-long camping trip in southwestern Utah for spring break. About every other year we head for southern Utah's state parks and national parks to get dirty, hike, climb on big rocks, camp, play games, sit around a camp fire, star gaze and eat as many s'mores as possible.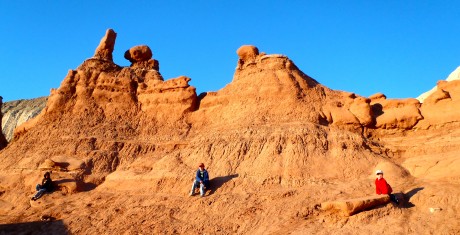 For this trip, we headed to Utah's Goblin Valley State Park, then to Grand Staircase Escalante National Monument to hike to Calf Creek Falls, then to Kodachrome State Park and finally, to Coral Pink Sand Dunes State Park. Normally we spend time at Zion and Arches national parks, but since we had our puppy in tow this time, we invested our time in the more pet-friendly areas of the state.

It was our second time to Goblin Valley. This is a magnificent place to visit, especially if you have young children. It is home to thousands of "hoodoos" — mushroom-shaped rock formations that range in size from a couple feet to several yards high. The uniquely shaped formations are formed of erosion-resistant rock that is on top of softer sandstone.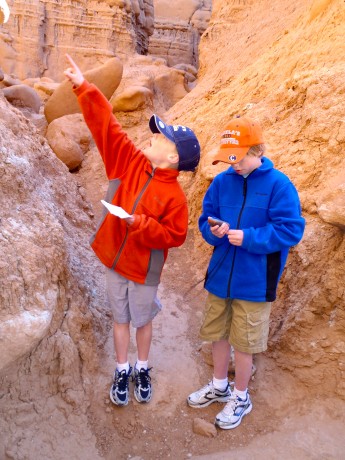 Our three sons played hide-and-seek, and climbed up and over and lounged on top of weird formations while looking for any goblins that might be "fleeting" by in between the odd formations. We also enjoyed our first official "geocaching" adventure here. Members of geocaching.com, we researched geocaches for the area during our trip planning. The one we were looking for in Goblin Valley was reported to have "3 stretchy skeletons" and a recently-activated geocoin in it.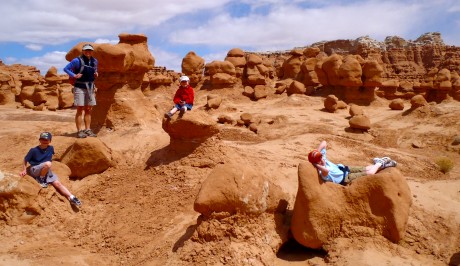 We followed the hints that were provided and the GPS coordinates to find the area where the treasure was supposedly cached. According to our GPS, we were hot on the signal, but could find no cache. After lots of hunting but nothing to show for it we determined someone had probably taken the skeletons and the cache and left the geocoin behind. Despite our not finding the geocache, we had a blast during our four hours of hiking, climbing, and adventuring throughout the cool landscape of Goblin Valley.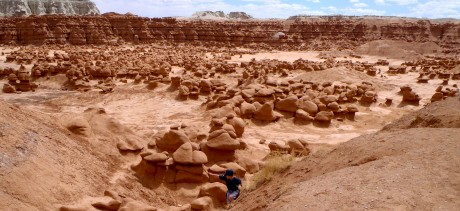 We camped in Goblin Valley State Campground, which is a few minutes' drive from the aforementioned hoodoo-filled area. The campground is situated wonderfully, right below a bunch of towering formations with narrow passages, providing yet more interesting terrain for our boys to explore.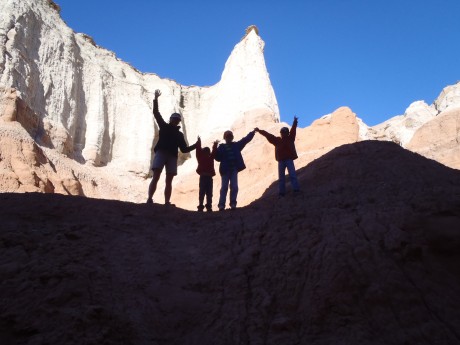 Here's a short video of our almost-4-year-old son, Finis, leading us on a geocache adventure:

Stay tuned for upcoming posts, including photos and videos, for our adventures in Grand Staircase Escalante, Kodachrome State Park and Coral Pink Sand Dunes. Please check back soon, and thanks for reading my blog. 🙂