Hahaha. This is a good one: Our family found out what it was like to be together but in 4 different states. In fact, my husband, Jerry, and I decided that if Delirious counts as a state, which we think it does, we stood in 5 states at one time. It was very cool.
This really happened as we descended on Four Corners on April 6 during our recent Spring Break road trip adventure.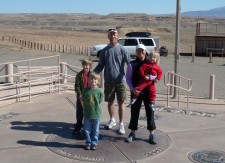 After touring Mesa Verde National Park, we traveled through Cortez, CO, to experience Four Corners, the monument that marks the point at which four states come together: New Mexico, Colorado, Arizona and Utah.
It was sort of a hoky experience, but well worth it. We were glad we included it on our itinerary. You pay $3 per person to enter tribal land and then take turns waiting to stand briefly in all four states. Fortunately we arrived early in the morning and early in the tourist season and only had to wait about five minutes before a friendly bystander offered to take our photograph.