We are getting ready for quite a spring break adventure.
On April 4, our family will set out in our car, with tent and camping supplies in tow, to travel through parts of 6 states in 7 days.
It's Grand Canyon or Bust. Or, perhaps The Wyoming Griswolds' 6-State Roadtrip.

View Larger Map
Sure, Grand Canyon is our "destination", but no question, the journey will be the trip.
We're traveling south from our hometown of Lander, WY, to Baggs, WY, to Craig, Grand Junction and Montrose, CO, ending Day 1 in a yurt at Ridgway State Park in southwestern Colorado. Lovers of national parks, we'll make a quick side trip to Black Canyon of the Gunnison National Park.
Day 2 will be the Million Dollar Highway to Durango. For the record we were going to bring our camper, but after my husband, Jerry, researched the Million Dollar Highway, our plan to camp in comfort was swiftly tossed out. (The scenic byway better be worth it!) He had what we think was an anxiety attack when we traveled Trail Ridge Road through Rocky Mountain National Park last fall. Despite his experience at climbing to top of 13,000-foot-high mountain peaks, driving above treeline makes him uncomfortable.
Day 2 will be exploring the ancient cliff dwellings of Mesa Verde National Park. We'll spend our second night in another yurt at Mancos State Park.
Day 3 will mark Jerry's birthday, so as a present, we'll find a shower hopefully in Cortez, NM, before we head to "Four Corners", where we have to travel for purposes of standing where the states of New Mexico, Arizona, Utah and Colorado connect.
Then, we'll point our vehicle to Utah's Goosenecks State Park, Monument Valley and to the South Rim of Grand Canyon where our true "camping" adventure starts.
We'll meet up with my parents on our third evening, who are renting an RV for the first time.
On April 7, "mommom and poppop" will head to Flagstaff, etc., to explore and be tourists with our three sons while Jerry and I do the monster hike… down South Kaibab Trail starting at 6am, stop in at Phantom Ranch for brief Snickers indulgence, then return via Bright Angel Trail. Should be a 10- to 12-hour hike for us and we can't wait. We did it once before in 1999 but that was before we had kids and I had all my media capture gadgets and a blog to post them to. This will be part of what we are calling our We Can Still Do This Tour.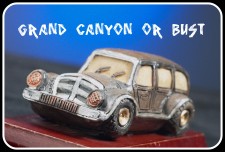 Day 5 will be a blast. We'll go to Williams, AZ, and watch an Old West gun fight reenactment before boarding the Grand Canyon Railway to the South Rim. Living history, interpretation and great scenery are promised during the adventure. After 2 hours, we'll be dropped off at the South Rim to spend 3 hours on our own touring and taking shuttles to all the "grand" overlooks before riding the train back "in higher style."
On Day 6 we'll head West with our sights on the Historic Route 66 and Hoover Dam, before surprising our young sons with a night at Trump Tower, complete with huge swimming pool and near the circus circus festivities. (This is where we change the name of the trip to "From Rock Towers to a Trump Tower", or from many stars to (just) five stars.)
Day 7 we'll head to Salt Lake City, one of our favorite cities in search of another great campsite, before heading home just in time for the traditional Easter Egg hunt at my parents.