On our recent spring break camping trip in southwestern Utah, we spent two nights camping and one day hiking and exploring Utah's Kodachrome State Park. We had been to the area before and loved it.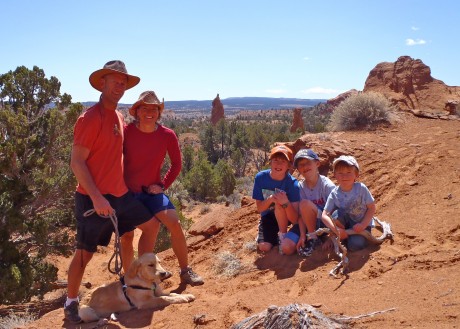 This state park gets its name, Kodachrome, from a 1948 National Geographic Society expedition that named the area after its popular color film. Kodachrome State Park is known for its tall and colorful spires.
Almost 70 monolithic stone spires — called sedimentary pipes — jut out of red and orange desert-like environs. The colorful sandstone formations reveal 180 million years of geologic time.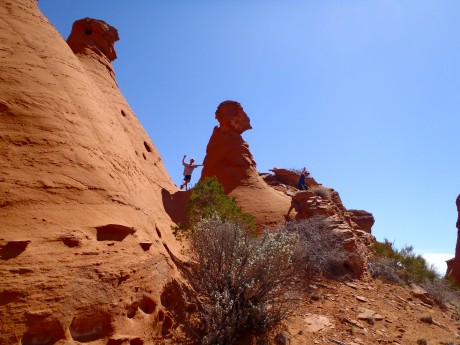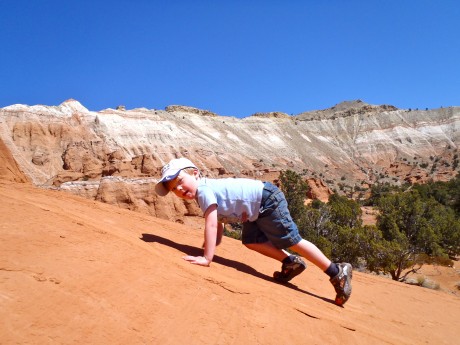 We enjoyed a couple of great hikes that started right near the campground. Our favorite was the Panorama trail, which is mostly level and takes you through a landscape that includes towering spires, Utah juniper and pinyon pine, signs of an earlier time in features like Indian Cave. Our boys' favorites were Ballerina Spire and the Secret Passage.
Depending on how many spur trails you take, this could be a 6-mile hike. If you remain on the main trail without taking any of the side trips, I think it's about a 3-mile hike. Either way, it's level and fun and perfect for families, especially if you have young children and a puppy, like we do.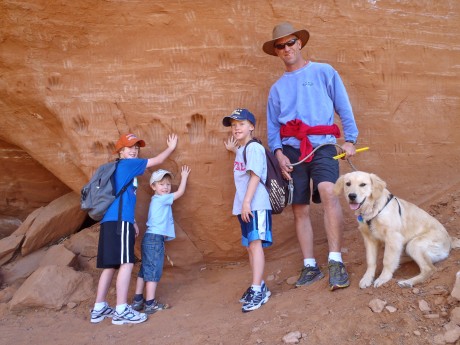 We spent a couple of hours having a picnic and just exploring and goofing off and relaxing near the trail to "Secret Passage." Our three sons, ages 11, 9 and 4, could have played there all day long. There were interesting rocks to climb in and out of and to the top of, places to hide and caves to explore.
According to Wikipedia, geologists believe Kodachrome Basin State Park was once similar to Yellowstone National Park, home to several geysers and hot springs, which eventually solidified, full of sediment. Over, time, the Entrada sandstone surrounding the solidified geysers eroded, leaving large sand pipes — or, spires.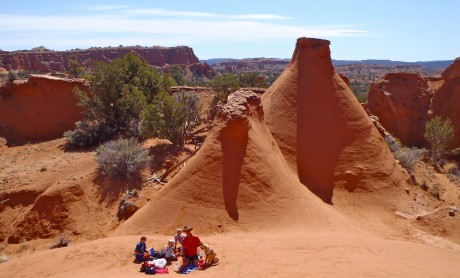 Kodachrome is perfectly situated for people looking to "base camp" in one awesome location with easy access to Zion National Park, Grand Staircase-Escalante National Monument, Capitol Reef National Park, Bryce Canyon National Park, and other great natural destinations in southwestern Utah.
The perfect day came to a perfect end when we had s'mores at our camp.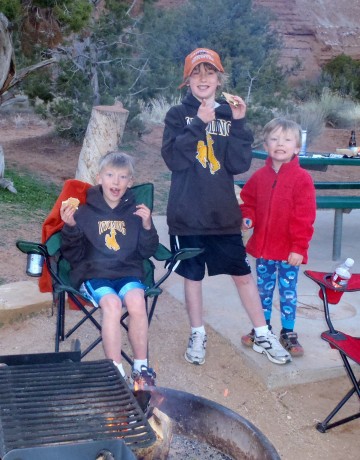 At the beginning of our trip, we enjoyed adventuring in Goblin Valley State Park, and en route to Kodachrome, we enjoyed a 6-mile hike to Calf Creek Falls in Grand Staircase-Escalante National Monument en route to Kodachrome. After our stay at Kodachrome, we headed south a short distance to Coral Pink Sand Dunes. (Stay tuned for the upcoming post about Coral Pink Sand Dunes, which was yet another awesome adventure.)
Here's a short video of how our last night at camp went at Kodachrome State Park: