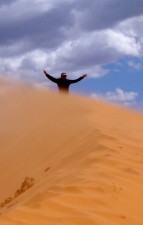 We have three young sons, ages 11, 9 and 4. As toddlers, they all loved playing in the custom-built corner sandbox their Pa-Grandpa built in our backyard for them. When we go on beach vacations, the boys relish playing in the sand.
So it was a highlight when we spent the final day of our recent weeklong camping adventure in southwestern Utah in Coral Pink Sand Dunes State Park. It was a hoot, not to mention spectacularly unique and beautiful.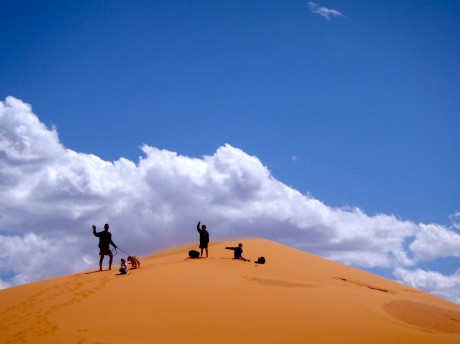 For several hours, we ran, barefooted, knee deep at times, in the sand, up and down the giant dunes. We made "sand angels" and jumped full blast off the "cornices" that formed and quickly re-formed along the tops of the dunes. The kids marveled at how the breeze (gale force winds) "erased" our footprints and all evidence of our (high impact) presence within seconds.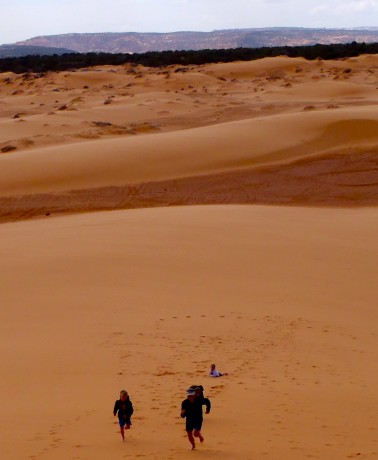 Hayden, our 9-year-old son, with the help of his brothers, spelled his name out in huge letters, only to see it erased in a blink of an eye.
Even my husband and I felt like little kids again as we frolicked in the fine, red-orange sand with our sons and puppy.
Coral Pink Sand Dunes is the only major sand dune field on the Colorado Plateau, and is a unique geologic feature. The dunes are old — estimated to be 10,000-15,000 years old. They are formed from the erosion of coral pink-colored Navajo Sandstone surrounding the area. High winds passing through the notch between the Moquith and Moccasin Mountains pick up loose sand particles and then drop them onto the dunes because of the Venturi effect.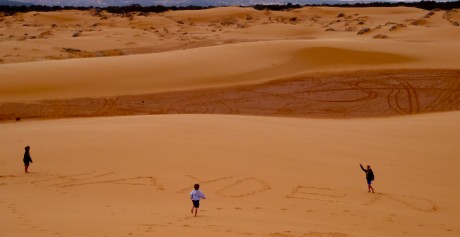 The state park is located between the towns of Mount Carmel Junction and Kanab, south and west of U.S. Highway 89, in southwestern Utah.
VIDEO:

Here are blog posts for other adventures we enjoyed during our southwestern Utah camping adventure:
Goblin Valley
Grand Staircase-Escalante National Monument
Kodachrome State Park