I LOVE Skype.
I love it for the same reasons everyone else does.
For free, I can call friends and family and colleagues, regardless of their location. Even if I'm talking to someone in Germany, the quality is so good it's as if we're at the same table having our chat. If you have iSight or some other web cam connected it's even more optimal and real.
But most of the all, the reason I love Skype is because I love their slogan:
Take a Deep Breath.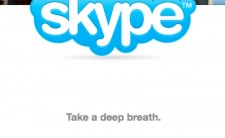 In fact, sometimes I shut down the application and restart it only so I can see that message again.
Go ahead. Laugh. I'm lol at the thought of it myself. But seeing this little reminder from Skype when the application loads – to Take a Deep Breath – helps me every time.
So, although the slogan doesn't seem very relevant to an online calling/communication platform, it gets an A from me because it helps me and it makes me feel better.
And that is quite an amazing marketing feat.