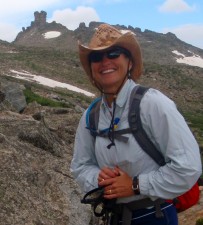 The Bears Ears Trail is one of my favorite trails in all of Wyoming's Wind River Range. This is due to the nature of the trail and the views it provides.
After a little more than three miles of switchbacks through forest, the trail opens up into alpine tundra and hands out spectacular views as it ascends Adams Pass.
We had set out with plans for a long and epic hike that would include the Bears Ears Trail and the Lizard Head Trail as an out-and-back day hike that would total about 28 miles. Mother Nature had other plans, though. Thunder and rain crashed our party around 11 a.m., which meant we did not get to hike the Lizard Head Trail. It was still a phenomenal adventure I will not forget.
We had a generous winter this year, which meant on our July 21 hike, the trail was still wet in many places. We even hiked over snow a handful of times. But it also meant the wildflowers were amazing.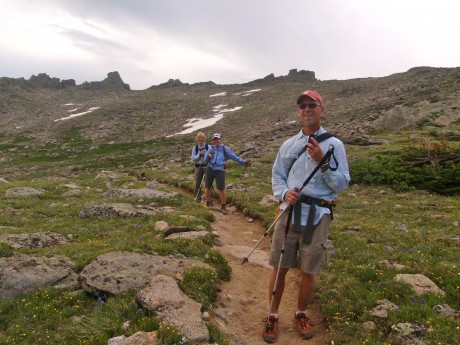 Adams Pass is amazing in its own right. But the hands-down prize is the view hikers are provided after about seven miles of hiking. What hikers get to see seven miles into this hike has got to be one of the best views in and of Wyoming's southern Wind River Range.

What you see is an awesome panorama of rugged country, including Mount Washakie, Washakie Pass, Bernard Peak, Lock Leven Lake, Chess Ridge, Mount Hooker, Mount Bonneville, and Musembeah Peak, which towers over Grave Lake.
We chose our turnaround point to be the area in front of a deep and dramatic cirque that lay directly in the foreground of the aforementioned view. We pulled just off the trail to what looked like a mess of huge boulders that fell out of the sky, leading to a sudden and deep hole/cirque. We all agreed you would not want to walk around this area in the dark!
Well, what more can I say? This was yet another epic day in my back yard. Another reminder of how lucky I am to live here.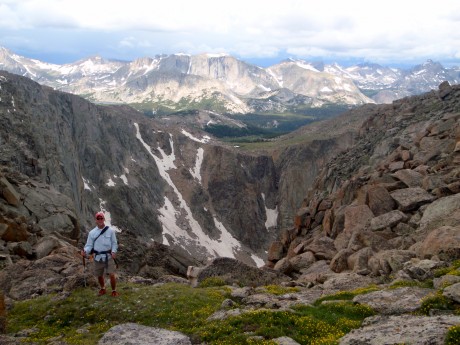 NOTE: The trailhead is in Dickinson Park, about 37 miles northwest of my hometown of Lander, WY. The trail starts at about 9,300′ elevation and gains about 2,600′. It's recommended you hike the eight miles to the junction of the Lizard Head Trail, and then scramble approximately 350 feet up to the top of Mt. Chauvenet, via its western slope. We didn't on this day, but Jerry and I did so about 11 years ago and it's highly recommended!
HERE ARE 3 SHORT VIDEO CLIPS THAT PROVIDE A GLIMPSE INTO THE BEAUTY OF THIS HIKE. ENJOY!