It was love at first sight. That's the only way I can describe my first impression of Spain. And I don't want to speak for my family members, but I'm pretty sure they are in love, too.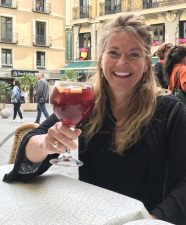 We are on an almost-month-long family trip. The "main event" of our time in Europe will be our upcoming 160-mile pilgrimage on the Camino de Santiago, which starts tomorrow morning in Rabanal de Camino. But the front end of our travel itinerary included Paris, and Madrid. (The tail end will include time in Santiago and Barcelona.)
When we landed in Madrid a few days ago, the first thing we noticed on our walk to the baggage claim was a shop with "hanging legs" of cured Iberian ham, and a huge selection of Spanish wines. Jamón is a quintessential Spanish food, and we would do our best to sample as much of it as we could during our three days in Madrid. There is even a Museo de Jamón in Madrid. (Yes, we visited it.)
Our cab delivered us to a corner near our hotel. I immediately fell in love with Madrid! The narrow, cobblestone streets were filled with people. The tall buildings are beautiful and old, with shutters and planters full of flowers hanging from every balcony. As we worked to maneuver ourselves and our abundant luggage through the crowded streets, people were friendly and welcoming.
As mentioned in the last blog post, one of the things about these big international trips that we find particularly exciting is discovering our accommodations at each new destination. Our flat in Paris was awesome, but there was no air conditioning. I don't mean to complain, but it was a little on the warm side. Right away, upon entering our Madrid hotel room, we noticed the cool air. Our room was small but classy. Beautiful linens, and an awesome location – right in the heart of central Madrid, surrounded by Tapas bars, and one minute from Plaza Mayor, and several wonderful shops and bakeries.
After dumping our bags, we took to the streets. We had one thing on our minds: Food. And not just any food. We were on the hunt for Tapas. A tapa is an appetizer or snack in Spanish cuisine and translates to a small portion of any kind of Spanish cuisine. Tapas are a traditional way of eating in Spain. We are trying to immerse ourselves in the culture of each city and/country we're visiting.
We didn't have to work very hard to find tapas. Lucky for us, there were about a hundred within easy walking distance from our hotel. We opted for a platter that included olives, sausage, ham, tortilla, calamari, garlic toast, cheese, and more. The boys all ordered Fantas, Jerry had a cerveza and I had a sangria (duh!).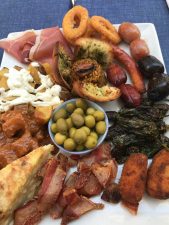 Epic yum is all I can say. The food was out of this world delicious, and so was the sangria. We were serenaded by an accordion player as we finished licking our plates.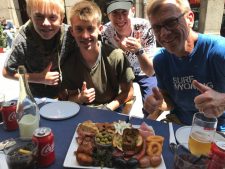 Next, we found Plaza Mayor, which is Madrid's main square. The square was originally planned by Felipe II and his architect Juan de Herrera, but was inaugurated in 1620 during Felipe III's reign. In the middle of the square is a spectacular statue of Felipe III.
Juan Gómez de Mora gave it its rectangular form, and after it had suffered three fires Juan de Villanova completed the work in 1853 by joining the four sides. There are several tapas bars and restaurants in the Plaza, and we watched a great variety of street performers.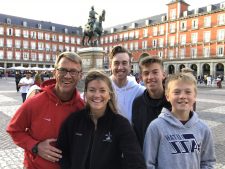 We were energized and wanting to see more so we headed for Palacio Real de Madrid (or, the Royal Palace of Madrid). The Palacio Real is Madrid's largest building, and the largest royal palace in Western Europe. The palace was built on the site of the old Alcázar, the Moorish castle destroyed by fire in 1734. The palace was initially designed by Filippo Juvarra to accommodate the court of Felipe V, a total of more than 3,000 courtiers. Juan Bautista Sacchetti initiated the building project in 1737, and Francisco Sabatini and Ventura Rodríguez terminated the works. It is surrounded by the beautiful Sabatini Park, and neo-classical Sabatini Gardens, and Campo del Moro parks.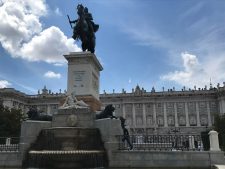 Here, there were many street performers. We love street performers. It was one of our favorite aspects of our visit to Rome a couple of years ago. At the Palace Real, there was a spectacular harp player, and also a guitar player. We lingered and enjoyed the performances while taking in the sights of the palace and the many statues, and the fountain.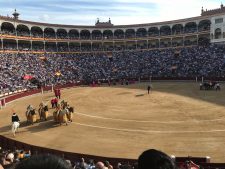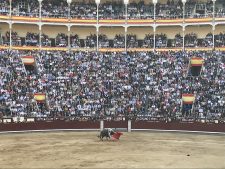 One of the events the boys were anticipating was the bull fight. Madrid is home to Plaza de Toros de Ventas, one of the most prestigious bull rings in the world. Situated in the Guindalera quarter of the district of Salamanca, it was inaugurated on June 17, 1931. It has a seating capacity of almost 25,000. The bull ring has five gates from which the bulls enter the arena.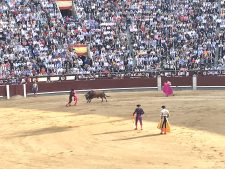 According to Wikipedia: From 1913 to 1920, the national passion (bullfighting) gained such an important status that Madrid's former main bullring in Carretera de Aragón was not big enough. It was José Gómez Ortega "Joselito" who declared that a new "monumental" bullring had to be built, to open this part of Spain's heritage and culture to the whole city of Madrid. His friend the architect José Espeliú began to work on the project.
A family called Jardón donated the land to the Madrid Provincial Council, provided that they could run the arena for fifty years. The deputation accepted the proposal on November 12, 1920. On March 19, 1922, in the exact center of the prospective arena, the first stone was placed. The construction of the bullring would cost 12 million pesetas (4.5 million over budget), and it would replace the old bullring, dating from 1874. "Las Ventas" was finished in 1929 and two years later, June 17, 1931, a charity bullfight was held with a full-capacity crowd to inaugurate it. Bullfighting stopped during the Spanish Civil War and did not resume until May 1939.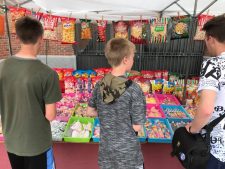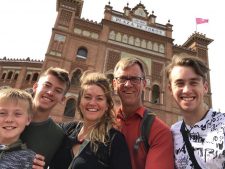 We rode the Metro seven stops to get to the bullring. What a spectacular venue! The exterior is beautiful, and we were, as usual, plenty early. So we stopped at the many vendors outside, including a concession stand where the boys had a blast filling a big bag with assorted local candies and chips to feast on during the bull fight.
Once inside, it was exciting. There were kegs of beer lining the walls, and bars everywhere. We found our seats. When we bought the tickets 24 hours earlier, the bullring ticket site indicated there were fewer than 100 tickets remaining. I didn't believe it at the time, instead thinking it was a ploy to create a frenzy and pressure people into buying tickets. But it appeared to have been the truth. It was a packed stadium. Close to 25,000 people packed the stunning arena.
Sunflower seeds and local nuts are one of the most popular treats at the bull fight, and we could understand. Jerry and I love sunflower seeds, and have our favorite brand that we indulge on road trips. We loved the local seeds. An interesting note about the sunflower seeds, Jerry and I remarked at the slight sound of "clicking" we could hear. It sounded a little like crickets or some other insects, but upon closer listening, we realized it was thousands of people chewing on sunflower seeds. Call me a dork, but that was the first time I ever heard such a thing. We also bought some locally-grown freshly roasted and salted almonds. They were the best almonds I've ever had, and I hope we'll come across them again during the rest of our time in Spain.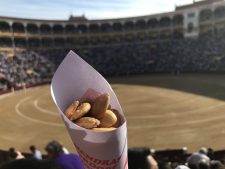 The bull fight was exhilarating! There is no other way to put it. Yes, it was also bloody. I had no knowledge about what all happens at a bull fight. All I knew is there would be bull fighters taunting bulls and "fighting" them, but I had no idea how it worked.
I wish I had the time to explain in more detail the bull fight, but I'm short on time. I have to get prepared for our Camino de Santiago pilgrimage, and the bullfight experience deserves more than a rush job. So, I'm including some photos here in this post, but I hope you'll check back in a month or so, at which time I hope to have a more in-depth blog post about the bull fight experience, including videos, etc.
After riding the Metro back, there was a fantastic singer and guitar player in the station we listened to for about 15 minutes before finding a new route back to our hotel. People and energy and music filled the air, as we navigated the narrow streets. Performers were everywhere, and by the time we returned to our hotel we had enjoyed a great variety of music provided by didgeridoo, accordian, harp, guitar, and violin.
We got back to our room at 11pm, and the boys binged on some Netflix while Jerry and I went out for a nightcap. One of the things I love about these European trips are Jerry's and my night cap outings. It is romantic and out of the ordinary for us to go out for a glass of wine or sangria at 11pm, so this indulgence has come to mean a lot to us. The boys love it, too, because they get some chill time, and independence (ie. time away from us!)
I can't believe what happened next. We slept in until 11:28! I don't think I've ever slept that late, even when I tried. And Jerry is the earliest riser in our family who never sleeps late, and he, too, slept until almost 11:30. None of us could believe it when we saw the time. That really hit the spot! I'm sure it had to do with several things, including a perfectly temperature-adjusted room, wonderful linens, comfortable beds, super full stomachs, and days of travel and jet lag residual. But, also, I think it's indicative of how comfortable we felt in Madrid.
Since we slept through breakfast, the boys wanted to know, What are we doing for lunch? We had heard rave reviews about a place called Mercada de San Miguel, which as our great luck would have it, was just a stone's throw from our hotel.
Oh my God. The rave reviews are legit! The gazillion choices of foods all looked delicious enough to die for, and it was difficult for each of us to narrow our choices. All told, between us all, we had Squid tentacles in a cup, Calzone, a fancy calamari sandwich, a chicken kabob, olives, nuts, crab cakes, Iberian ham croquettes, sausage and patatas. It was all so delicious, and so reasonably priced.
Here are a gazillion photos of delicious food: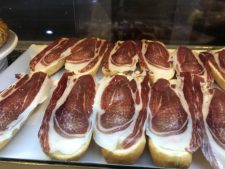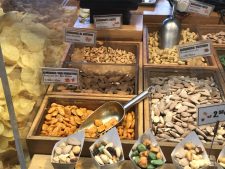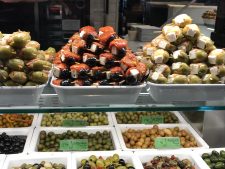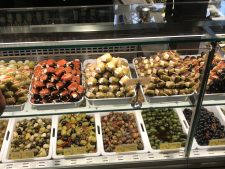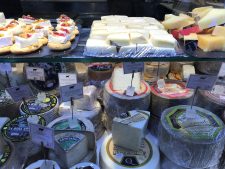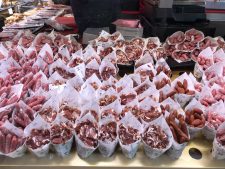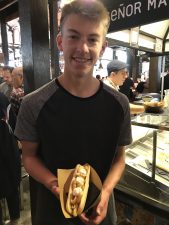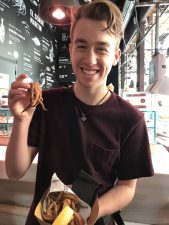 After eating a little too much again (oops), we decided to walk to El Retiro Park. El Retiro Park is one of the largest parks of the city of Madrid, Spain. The park belonged to the Spanish Monarchy until the late 19th century, when it became a public park. The park is full of fountains. We sat in the shade, drinking cold beverages while taking in music provided from a saxophone player and a trumpet player in the distance, while watching boaters floating on Retiro Park Lake, with the Monument to Alfonso XII in the background. I may or may not have had a sangria. 🙂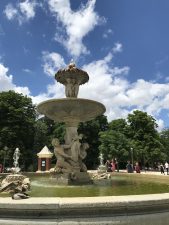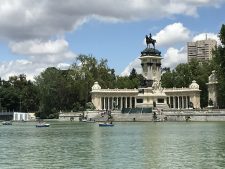 We strolled back to our digs, and got cleaned up before going out for a delicious dinner of seafood paello, Iberian ham, croquettes and a cheese board.
We closed in early because the next day would start early. Plus, we had lots of final organizing to do. In the morning, we would ride a bus for 4 hours to Astorga, then get transported by cab to Rabanal de Camino, at which point we'd have only our backpacks and we'd part way with the bulk of our luggage.
The Camino de Santiago pilgrimage has been approaching for some time, and now it is finally right upon us. Our introduction to Spain has been nothing short of fantastic, and we have fallen in love with Madrid.
Right as our heads were hitting our pillows, we heard some soft classic guitar music. It was beautiful, and our musician son, Wolf, jumped out of bed to go see the musician, who was playing right below our balcony. About 15 minutes later, Wolf returned to request some money to offer the performer. I couldn't resist, and joined Wolf to listen for another song or two.
I want to make sure to write this sensitively. The musician didn't have a right hand. He had a hook for a hand. He is an amazing musician and artist, and watching him pick and play such beautiful music with just five fingers was astonishing and inspiring to no end. I hope you'll watch the video clip below.
Thank you, Madrid, for an unforgettable introduction to Spain, and your great city!
Next up, Rabanal de Camino, and the Camino de Santiago trek!
Thanks for reading, and I hope you'll check back again soon.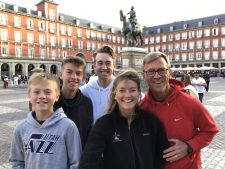 —